DirectX
ActiveMac
Downloads
Forums
Interviews
News
MS Games & Hardware
Reviews
Support Center
Windows 2000
Windows Me
Windows Server 2003
Windows Vista
Windows XP



News Centers
Windows/Microsoft
DVD
Apple/Mac
Xbox
News Search



ActiveXBox
Xbox News
Box Shots
Inside The Xbox
Released Titles
Announced Titles
Screenshots/Videos
History Of The Xbox
Links
Forum
FAQ



Windows XP
Introduction
System Requirements
Home Features
Pro Features
Upgrade Checklists
History
FAQ
Links
TopTechTips



FAQ's
Windows Vista
Windows 98/98 SE
Windows 2000
Windows Me
Windows Server 2002
Windows "Whistler" XP
Windows CE
Internet Explorer 6
Internet Explorer 5
Xbox
Xbox 360
DirectX
DVD's



TopTechTips
Registry Tips
Windows 95/98
Windows 2000
Internet Explorer 5
Program Tips
Easter Eggs
Hardware
DVD



ActiveDVD
DVD News
DVD Forum
Glossary
Tips
Articles
Reviews
News Archive
Links
Drivers



Latest Reviews
Xbox/Games
Fallout 3

Applications
Windows Server 2008 R2
Windows 7

Hardware
iPod Touch 32GB



Latest Interviews
Steve Ballmer
Jim Allchin



Site News/Info
About This Site
Affiliates
Contact Us
Default Home Page
Link To Us
Links

News Archive
Site Search
Awards



Credits
©1997-2012, Active Network, Inc. All Rights Reserved.
Please click here for full terms of use and restrictions or read our Light Tower Privacy Statement.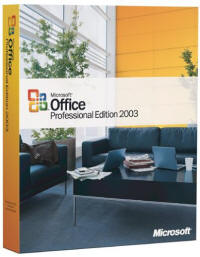 Outlook 2003
Outlook had been my main mail program up until the last year or so when I switched to Entourage on the Mac. Outlook 2003 is supposed to be a major update to the program, one it has been in the need of for the last couple of years.
Manage and Prioritize Your Communication
Organize information better to help save time and be more productive.
Manage all your e-mail in one place. Access, send, and receive e-mail messages from multiple accounts—including work, personal, or Web-based e-mail accounts such as MSN® Hotmail®—within a single view.
Print less, read more. Outlook 2003 makes it easier and more comfortable to read e-mail messages online, including long messages. The Reading Pane has been moved to the right side of the screen to display twice as much content and reduce scrolling when you read long messages online.
Save time and find messages faster. Find e-mail messages more easily by grouping messages by date, size, conversation, subject, importance, or other criteria.
Organize your Inbox. You no longer have to keep all e-mail messages in your Inbox to remind you of action items. Instead, use Quick Flags to flag messages by priority or time sensitivity and find them in whichever folder they reside.
Automatically organize messages and receive reminders. Enhanced Rules and Alerts organize incoming e-mail messages according to your preferences and can automatically trigger alerts to remind or alert you when needed—such as when tasks are due or meetings are about to begin.
Find messages easily. Save the results of commonly used searches as Search Folders instead of having to re-run common searches each time you need them. Search Folders provide an automated way to keep relevant e-mails together, without moving them to other folders. Search Folders require a connection to Microsoft Exchange Server 2003, Exchange 2003, or Exchange 5.5.
Access your Contacts, Calendar, and Tasks quickly. Use the new Navigation Pane (or click Go on the menu bar), to access your Contacts, Calendar, Tasks, Folders, Shortcuts, and Journal and find the information you need to answer e-mail messages, schedule appointments, and
Let Outlook 2003 Do Work for You
Outlook 2003 can help you get the information you need—and block the information you don't need—to stay productive.
Prevent junk mail. The new Junk E-Mail Filter can help you prevent junk e-mail messages from cluttering your Inbox. Learn more about preventing junk e-mail messages with Outlook 2003.
Block unwanted attachments. To help prevent unwanted attachments and bulky files from taking up too much storage space, Outlook 2003 blocks e-mail messages and files from people not on your Safe Senders List. After you examine and approve the message, Outlook 2003 downloads the full message and file.
Read e-mail messages regardless of the connection. The new Cached Exchange Mode downloads messages and other Outlook 2003 data to your computer so you can remain productive during network downtime. Cached Exchange Mode requires a connection to Exchange Server 2003.
Connection awareness. Indicate if you have a fast or slow connection—or have Outlook 2003 detect it for you. Outlook 2003 adapts its performance by displaying either a preview of a message or the full message, depending on the network speed.
Find facts quickly. No need to leave your e-mail to do research—the new Research task pane brings electronic dictionaries, thesauruses, and online research sites into Outlook 2003 so that you can find information and incorporate it into your messages. Some functionality in the Research task pane requires a connection to the Internet. Learn more about how to do research and reference in Office 2003 Editions.
Work with Others More Easily
Work together better and help protect against the misuse and unwanted distribution of key company information.
Communicate instantly with others. No need to leave Outlook 2003 to find out if an instant messaging (IM) contact is online. Initiate IM conversations quickly in messages, Contacts, Calendar, and other areas in Outlook 2003.
Control distribution of sensitive work. Help protect your company assets by preventing recipients from forwarding, copying, or printing important e-mail messages by using information rights management (IRM) functionality. You can even specify an expiration date for the message, after which it cannot be viewed or otherwise acted upon. IRM functionality requires Microsoft Windows Server™ 2003 running Microsoft Windows® Rights Management Services (RMS).
Note With Microsoft Office Professional Edition 2003, you can use Outlook 2003 to create IRM-protected e-mail messages and grant others permission to access and modify your e-mail messages. You can also apply policy templates to IRM-protected e-mail messages you create. With Microsoft Office Standard Edition 2003, Microsoft Office Small Business Edition 2003, and Microsoft Office Student and Teacher Edition 2003 you can read IRM-protected e-mail messages; with permission, you can modify them as well.
Work together better. Save e-mail message attachments to shared workspaces where other team members can get the latest versions, check files in or out, or even save task lists, related files, links, and member lists. You can even tell whether team members are online and then use IM to send them a message. Shared workspaces require Windows Server 2003 running Microsoft Windows SharePoint™ Services.
Spend less time coordinating schedules. Access shared team calendars in Outlook 2003 and view multiple calendars side by side to make scheduling meetings fast and more convenient. You can view your own work and personal calendars, calendars in Windows SharePoint Services, or the calendars of others who have granted you viewing rights. Sharing team calendars requires Windows Server 2003 running Windows SharePoint Services.
Go mobile. If you own and use a Tablet PC, you can use ink markup to annotate e-mail messages in your own handwriting with a pen input device. You can write notes for personal use or e-mail messages to send to others.
The main look of Outlook 2003 has changed quite a bit, it looks much cleaner than it has been before, will more information available to you in one place. The reading pane (or preview pane as some of you may know it) now defaults to the right hand side of the screen, this means you can now read more of your e-mail that comes as you no longer have to scroll so much, personally I don't make much use of it as I prefer to just open e-mail the old way, but I understand why people like it, and moving it over to the right instead of underneath your inbox works really well, making it much easier to read e-mails.
Organising and filtering mail has become a much easier task with Outlook 2003, and it now allows you to arrange your inbox messages by conversation (threaded) so you can read e-mails that related to a certain topic, this is really good when you want to go back through your e-mail and delete old messages you no longer want hanging around. So another good addition.
Now onto the majorly improved junk mail filter - this works very well, almost as well as the one on Apple's Mail program, right away you have it set up for junk mail removal, this is the limited version which filters out the most easy to find spam and shoves it into an easy to delete junk mail folder, this folder allows you to scan through just incase anything slips through that shouldn't have, although with the low setting used as default I have never had any mistaken spam slip through. There are varying degrees of protection from none, to safe senders list only - which means you will only receive mail from people on your safe senders list.
Next up we have e-mail blocking and image blocking, both of these are excellent additions in my view, especially the image blocking. This prevents spam e-mails of a pornographic nature being read by anyone who shouldn't be looking at them, or by someone who doesn't want to - Outlook prevents the images being download from the internet unless you ask it to, you can also add the name of the sender to either your safe e-mail list or to junk mail so you don't have to receive them again. It works well.
As mentioned earlier, Outlook 2003 helps stop incoming messages containing viruses. You can choose when to load Hypertext Markup Language (HTML) content in an e-mail message and block unsolicited attachments from communicating back to their servers, helping to protect your privacy. Again if you add people to your safe senders list then you can read your attachments without bother.
Another addition to Outlook 2003 is the research task pane. The Research library interface integrates into nearly all of of the Office 2003 Applications, Word 2003, Excel 2003, Outlook 2003, PowerPoint 2003 and Publisher 2003 can all make use of it. The research pane allows users to search reference materials, internet sites, Encarta, thesaurus. But not only can you do that, you can also add your own services to the research pane if you have someone who can develop one for your company.
So say you do a search for "Windows", you can choose to search books, Encarta, msn search etc to get all of the results put into one place, but it gets better. If you have a word in your e-mail that you don't understand or want to know more about - just right click on it and then click on "Look Up" this puts up the Research Panel and it automatically searches the word out for you. It works really well and is an excellent addition to the Office package.
There are a few other additions work mentioning even though they are small little updates like the new pop-up announcements that let you know of new e-mail that has arrived, similar to that of the MSN Messenger pop-ups that inform you of messages and friends coming online. This pop-up lets you read the e-mail or quickly delete it.
The calendar has been improved too thanks to the fact that you can now view multiple calendars next to your own calendar. The calendars scroll together and are colour-coded and labeled to help you quickly compare schedules or schedule meetings. After you open another person's calendar, it is added to the Calendar pane in the Navigation Pane, where you can select the check box next to the person's name to show or hide his or her calendar.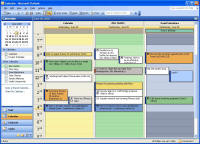 The calendar view has also been improved and you can now view multiple calendars at once. In this view, the TaskPad is hidden (but can be easily shown by clicking TaskPad on the View menu), and the Date Navigator now is displayed in the Navigation Pane. A new indicator make it easy to quickly see the current day and time.
How It Grades
Installation: 91%
Ease Of Use: 92%
Speed: 92%
Features: 91%
Improvements: 91%
Options: 92%
Manual: 91%
Price: 85%
Overall: 92%
We also have Information Rights Management making its way into Outlook 2003. E-mail messages with restricted permission. Information Rights Management (IRM) in Outlook allows you to create messages with restricted permission to help prevent messages from being forwarded, printed, copied, or edited by unauthorized people. The sender clicks Do Not Forward on the Standard toolbar to restrict permission for the message.
What else is there? Well you can now have a signature per account, so every different e-mail account have use one. You can add photos to all your contacts. There is Tablet PC support. I'm sure there are lots I haven't mentioned too.
There is no doubt in my mind, that out of all of the Office Systems programs, Outlook 2003 has had the most improvement, its finally fast, easy to use and full of features that just about everyone will use.