DirectX
ActiveMac
Downloads
Forums
Interviews
News
MS Games & Hardware
Reviews
Support Center
Windows 2000
Windows Me
Windows Server 2003
Windows Vista
Windows XP



News Centers
Windows/Microsoft
DVD
Apple/Mac
Xbox
News Search



ActiveXBox
Xbox News
Box Shots
Inside The Xbox
Released Titles
Announced Titles
Screenshots/Videos
History Of The Xbox
Links
Forum
FAQ



Windows XP
Introduction
System Requirements
Home Features
Pro Features
Upgrade Checklists
History
FAQ
Links
TopTechTips



FAQ's
Windows Vista
Windows 98/98 SE
Windows 2000
Windows Me
Windows Server 2002
Windows "Whistler" XP
Windows CE
Internet Explorer 6
Internet Explorer 5
Xbox
Xbox 360
DirectX
DVD's



TopTechTips
Registry Tips
Windows 95/98
Windows 2000
Internet Explorer 5
Program Tips
Easter Eggs
Hardware
DVD



ActiveDVD
DVD News
DVD Forum
Glossary
Tips
Articles
Reviews
News Archive
Links
Drivers



Latest Reviews
Xbox/Games
Fallout 3

Applications
Windows Server 2008 R2
Windows 7

Hardware
iPod Touch 32GB



Latest Interviews
Steve Ballmer
Jim Allchin



Site News/Info
About This Site
Affiliates
Contact Us
Default Home Page
Link To Us
Links

News Archive
Site Search
Awards



Credits
©1997-2012, Active Network, Inc. All Rights Reserved.
Please click here for full terms of use and restrictions or read our Light Tower Privacy Statement.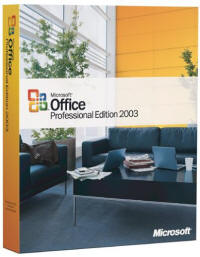 FrontPage 2003
FrontPage has been one of the tools I used every day over the last 5 years, up until Dreamweaver MX came out and basically blew away all of the competition. While FrontPage has never really had all the features other Web Design packages have done, it is still one of the most popular tools in the world today for both basic business design and home page development. Here are some of the new features that have been packed into FrontPage 2003
FrontPage 2003 advances your Web development in three key areas.
Designing: Use enhanced design tools to produce better looking Web sites. New layout and graphics tools make it easier to design exactly the site you want.
Coding: Use design tools to generate better code, or expand your code skills. Use built-in scripting tools for interactive results. And with professional coding tools, you can write code faster, more efficiently, and with greater accuracy.
Extending: Connect with people and information in new ways by building Extensible Markup Language (XML) data-driven Web sites using the first commercially available, completely WYSIWYG ("what you see is what you get") Extensible Stylesheet Language Transformations (XSLT) editor. The enhanced publishing features and options help you get your Web pages online more quickly.
Note XML collaboration requires Microsoft Windows Server™ 2003.
Design Better-looking Sites
FrontPage 2003 includes tools and layout and graphics features to help you work faster and design professional Web sites.
Work with graphics from other applications, giving you more control over how images are displayed and saved.
Use dynamic Web templates to modify entire sections of a Web site. By updating the master template, changes are automatically made to all pages linked to that template.
Target specific browser or screen resolutions by using browser and resolution reconciliation. You can also see how your site will look in various combinations of browsers and resolutions.
Create and manipulate tables used for layout purposes, and provide pixel-precise control of your layout.
Use manipulation tools to more easily work with multiple images and pieces of content that sit in the same space, and to create visual effects, such as pop-up menus.
Generate Code Faster and Easier
The design tools in Frontpage 2003 generate efficient and clean Hypertext Markup Language (HTML), and give you more control over the code. Or, you can apply your coding knowledge by taking advantage of the professional coding tools. With the scripting tools you can create an interactive experience for your audience. And, because the coding tools are easy to work with, you can even use them to start learning HTML.
Coding Tools
Use a split view to see modifications made in the Design View automatically updated in the Code View.
Select, modify, and manipulate tags easily using the Quick Tag Selector and Quick Tag Editor.
Simplify code writing and make it less prone to errors with Microsoft IntelliSense® technology. The technology is available for HTML, cascading style sheets, XSLT, Microsoft JScript®, and Microsoft ASP.NET.
Remove extraneous code generated by Microsoft Word or other Web authoring programs.
Scripting Tools
Enhance interactivity on your site without writing a line of code by using behaviors to author JScript.
Take advantage of support for IntelliSense and scripting tools for authoring JScript and Microsoft Visual Basic® Scripting Edition (VBScript).
Extend the Power and Reach of Your Web Site
With Microsoft Windows SharePoint Services and Windows Server 2003 connected to FrontPage 2003, you can modify and present live data from a range of sources, including XML, to build rich interactive data-driven Web sites in a WYSIWYG editor. Users can post to the Web using just their browsers, while choosing from a broad range of publishing options.
Data-driven Web Sites Enabled by Windows SharePoint Services
Allow users to post to your Web site using just their browsers. Web logs, issue-tracking lists, and news and reviews sites can be built with just a couple of clicks.
Insert data views and configure data sources—including XML varieties, Windows® SharePoint™ Services data, Web services, and OLE Database (OLEDB) data sources.
Handle XML data and authoring and XSLT formatting directly in the FrontPage WYSIWYG Design view to create XML data-driven Web sites.
Show or hide items or reformats based on data values or position in the data view by using Dynamic conditional formatting.
Build Web Parts Pages by creating Web Parts Zones and inserting and connecting to Web Parts in other products, including Microsoft SharePoint Portal Server "v2.0" Beta 2, Windows SharePoint Services, and FrontPage 2003.
Publishing Technologies
Move files easily between local and remote locations and publish in both directions.
Connect to remote sites easily with the Web import dialog that simplifies connection types and working with Secure Sockets Layer (SSL).
Publish to File Transfer Protocol (FTP) and Web Distributed Authoring and Versioning (WebDAV) servers from the new Remote Web Site tab.
As you can see, this is one of the biggest updates to FrontPage yet, certainly far better than the last release with Office XP, and perhaps one of the reasons why FrontPage 2003 is now sold as a separate product. Upon loading FrontPage 2003 for the first time, the main difference I noticed (apart from the cleaner look of the icons and such like) was the new split mode, this is a major feature for me and comes from other Web Design programs like Dreamweaver that have had it for a while.
Split mode is where you get to see both the Design layout and the Code layout split into two, Coding at the top, Design at the bottom, for those of us who want to do a mixture of hand coding and WYSIWG design it is a very important addition to the program.
Next up we have "Quick Tag Selector" which is at the top of FrontPage just under the main toolbars. You use the Quick Tag Selector to select any tag in your Web page and then you can use it to insert, wrap, and edit HTML tags. It is something that has come in handy during the time I have had to review FrontPage and it works well. This paragraph for example is shown at the top of the page on the Quick Tag Selector as "p" If I hover over the "p" on the Tag Selector bar then a drop down menu comes up and lets me edit the tag, change the properties and more, depending on what type of Tag it is.
We also have a slightly improved "Preview In Browser" mode, which not only lets you view your pages in any browser, you can now also change the resolution sizes in all of the browsers so you can see how your site looks across the board. But the main browser testing change that has been made is in the form of the "Browser Compatibility" test (shown below)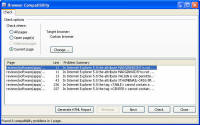 How It Grades
Installation: 92%
Ease Of Use: 90%
Speed: 91%
Design Ability: 91%
Improvements: 90%
Options: 92%
Manual: 92%
Price: 82%
Overall: 91%
This lets you test browser compatibilities in line with the browser you are aiming to design for, the above screenshot was taken with this page, aimed at Internet Explorer 5 and above users, and you can see it shows up the basic errors well. So another good addition to FrontPage 2003.
FrontPage 2003 also now has support for design-time layers, which make it easy to work for various pieces of content that are place into the same space as each other, but only show up when the designer wants them to. We can also now add Interactive Buttons to pages, something I expect to crop up across homepages when home users get hold of this update.
Not only do we have these new features, we also have various little improvements like Optimizing your code, this lets FrontPage review pieces of code that are not needed, so you can get as clean a code as possible and reduce page sizes without going through and hand editing everything. It works well, although I am disappointed that it doesn't get rid of all Word 2003 HTML that it states it does.