DirectX
ActiveMac
Downloads
Forums
Interviews
News
MS Games & Hardware
Reviews
Support Center
Windows 2000
Windows Me
Windows Server 2003
Windows Vista
Windows XP



News Centers
Windows/Microsoft
DVD
Apple/Mac
Xbox
News Search



ActiveXBox
Xbox News
Box Shots
Inside The Xbox
Released Titles
Announced Titles
Screenshots/Videos
History Of The Xbox
Links
Forum
FAQ



Windows XP
Introduction
System Requirements
Home Features
Pro Features
Upgrade Checklists
History
FAQ
Links
TopTechTips



FAQ's
Windows Vista
Windows 98/98 SE
Windows 2000
Windows Me
Windows Server 2002
Windows "Whistler" XP
Windows CE
Internet Explorer 6
Internet Explorer 5
Xbox
Xbox 360
DirectX
DVD's



TopTechTips
Registry Tips
Windows 95/98
Windows 2000
Internet Explorer 5
Program Tips
Easter Eggs
Hardware
DVD



ActiveDVD
DVD News
DVD Forum
Glossary
Tips
Articles
Reviews
News Archive
Links
Drivers



Latest Reviews
Xbox/Games
Fallout 3

Applications
Windows Server 2008 R2
Windows 7

Hardware
iPod Touch 32GB



Latest Interviews
Steve Ballmer
Jim Allchin



Site News/Info
About This Site
Affiliates
Contact Us
Default Home Page
Link To Us
Links

News Archive
Site Search
Awards



Credits
©1997-2012, Active Network, Inc. All Rights Reserved.
Please click here for full terms of use and restrictions or read our Light Tower Privacy Statement.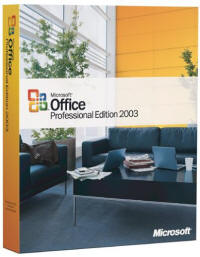 Conclusion
It's usually easy to review the Office updates and state that there is very little new stuff added to the package, but thankfully this year is the exception. There are a lot of new features in Word, PowerPoint, FrontPage and massive improvements in Outlook.
Final Comments
How It Grades
Installation: 91%
Ease Of Use: 83%
Speed: 91%
Features: 92%
Improvements: 82%
Design Ability: 93%
Options: 92%
Manual: 90%
Price: 81%
Overall: 90%
If you held back in upgrading to Office XP, then defiantly go with Office 2003 as there are some major improvements here. But if you already own Office XP, then once again it is hard to fully recommend spending a large amount of cash on the main upgrade simply because only Word and Outlook have had the major changes that most people are likely to make use of. But in saying that, PowerPoint 2003 is also a valuable update for a lot of users. The let downs here are Excel and Access, which don't have the kind of improvements other parts of the package have had, but once again I'll say if you haven't already got the XP versions of them, upgrade.
The reason I have reviewed each component of the pack separately, is so you can get an easy view of which parts you are mostly like to use, and which of them offer the most improvements and new features. The grade here is for the overall package. If you are new to Office and can afford it, you will undoubtedly get a lot of use out of it, especially businesses and students, if you are a home user, I would recommend picking out what you need instead of paying $500 for this package as there is a high chance you won't need all of the programs. But overall, an excellent update this time.
Specs & Package

Overall Score

90%

Version Reviewed

Office Systems 2003 - Professional Edition

Release Date

Out Now

In The Box?

2 CDs
Small Manual

The Good Points

Lots of improvements
Easy install
Superb Outlook
Increased security features

The Bad Points

Excel & Access lack new features

Reviewers PC Setup

Windows XP Service Pack 1
AMD Athlon XP 2100
Asus A7V333 Motherboard
512MB DDR PC2100
Leadtek NvidiaGeForce 4 Ti 4600
Creative Labs Audigy Sound Card (OEM)
100 GB Western Digital Hard Drive 7200 RPM, 8mb Cache
Samsung 16x DVD-ROM
Samsung CD-RW (48x24x48x)
Creative Inspire 5.1 5300 Speakers