DirectX
ActiveMac
Downloads
Forums
Interviews
News
MS Games & Hardware
Reviews
Support Center
Windows 2000
Windows Me
Windows Server 2003
Windows Vista
Windows XP



News Centers
Windows/Microsoft
DVD
Apple/Mac
Xbox
News Search



ActiveXBox
Xbox News
Box Shots
Inside The Xbox
Released Titles
Announced Titles
Screenshots/Videos
History Of The Xbox
Links
Forum
FAQ



Windows XP
Introduction
System Requirements
Home Features
Pro Features
Upgrade Checklists
History
FAQ
Links
TopTechTips



FAQ's
Windows Vista
Windows 98/98 SE
Windows 2000
Windows Me
Windows Server 2002
Windows "Whistler" XP
Windows CE
Internet Explorer 6
Internet Explorer 5
Xbox
Xbox 360
DirectX
DVD's



TopTechTips
Registry Tips
Windows 95/98
Windows 2000
Internet Explorer 5
Program Tips
Easter Eggs
Hardware
DVD



ActiveDVD
DVD News
DVD Forum
Glossary
Tips
Articles
Reviews
News Archive
Links
Drivers



Latest Reviews
Xbox/Games
Fallout 3

Applications
Windows Server 2008 R2
Windows 7

Hardware
iPod Touch 32GB



Latest Interviews
Steve Ballmer
Jim Allchin



Site News/Info
About This Site
Affiliates
Contact Us
Default Home Page
Link To Us
Links

News Archive
Site Search
Awards



Credits
©1997-2012, Active Network, Inc. All Rights Reserved.
Please click here for full terms of use and restrictions or read our Light Tower Privacy Statement.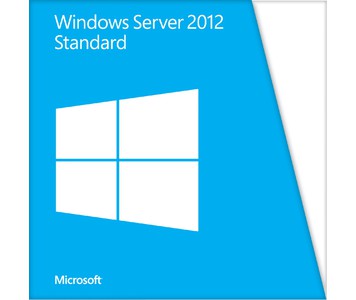 Setup
Windows Server 2012 uses a setup familiar to Windows 8 users, if you are coming from Windows Server 2008 R2 or prior releases, system administrators will experience fast setup routine. Although this might not be the approach major enterprises deploying Windows use, if you are installing on a standalone server hardware you will notice a lot of the install pages have been reduced. On an HP Z210 with an SSD, I had Windows Server 2012 up and running in 7 minutes in workgroup mode. Windows Server 2012 is a purely x86-x64 release. Windows Server 2012 can switch between "Server Core" and the "Server with a GUI" installation options without a full reinstallation. Server Core is now the recommended configuration. There is also a new third installation option that allows some GUI programs such as MMC and Server Manager to run, but without Internet Explorer, Windows Explorer or the new desktop and shell. Microsoft has stuck to their commitment of not supporting the now limbo Intel Itanium architecture. Hyper-V in Windows Server 2012 requires that the CPU in your Server has support for Secondary Level Address Translation (this is also a requirement for the client). So, these considerations you take into account when planning your migration to Windows Server 2012. This should also be an opportunity for consolidation and moving physical servers to VMs.
Deploying domain controllers
The process for deploying domain controllers is faster and more flexible in Windows Server 2012. The Dcpromo.exe wizard of previous versions of Windows Server has been replaced with a new Active Directory Domain Services Configuration Wizard that is built upon PowerShell. This redesign provides a number of benefits. For example, you can now install the AD DS server role binaries remotely using Server Manager or with the new AD DS PowerShell cmdlets. You can also install the binaries on multiple servers at the same time. Adprep.exe has now been integrated into the Active Directory installation process to make it easier to prepare your existing Active Directory environment for upgrading to Windows Server 2012 and the Active Directory Domain Services Configuration Wizard Performs validation to ensure that the necessary prerequisites have been met before promoting a server to a domain controller.
A number of improvements have been made to ADAC in Windows Server 2012 to make it easier to manage your Active Directory infrastructure. For example:
The Active Directory Recycle Bin, first introduced in Windows Server 2008 R2, has been enhanced in Windows Server 2012 with a new GUI to make it easier for you to find and restore deleted objects.

Fine-grained password policies, also first introduced in Windows Server 2008 R2, have been enhanced in Windows Server 2012 with a new GUI as well, making it possible to view, sort, and manage all password policies in a given domains.
Windows PowerShell History Viewer helps you quickly create PowerShell scripts to automate Active Directory administration tasks by viewing and utilizing the PowerShell commands underlying any actions performed using the user interface of ADAC.
Editions
With the release of Windows Server 2012, Microsoft has changed its SKU lineup once again to reflect the demands of users. The Enterprise edition is no longer available, being supplanted by Datacenter edition. A new edition called Windows Server 2012 Essentials supplants Small Business Server while complementing Microsoft's Cloud services for small businesses.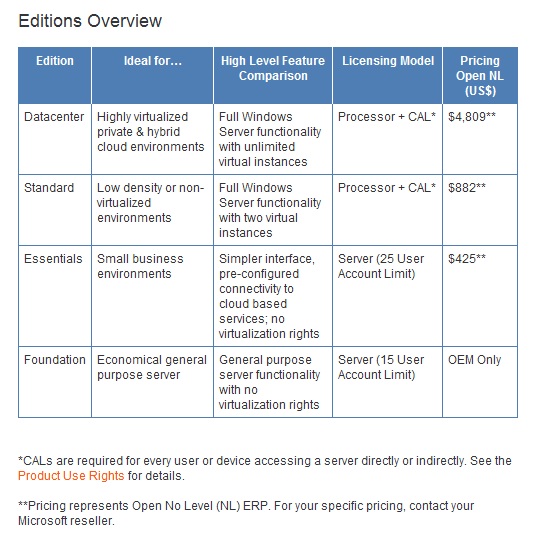 System Requirements
Minimum system requirements for Windows Server 2012
Architecture: x64
Processor: 1.4 GHz
Memory (RAM): 512 MB
HDD free space: 32 GB (more if there is 16 GB of RAM or more)
Upgrades from Windows Server 2008 and Windows Server 2008 R2 are supported, though upgrades from prior releases are not supported
Microsoft has indicated that Windows Server 2012 does not support IA-32 or IA-64 processors.