DirectX
ActiveMac
Downloads
Forums
Interviews
News
MS Games & Hardware
Reviews
Support Center
Windows 2000
Windows Me
Windows Server 2003
Windows Vista
Windows XP



News Centers
Windows/Microsoft
DVD
Apple/Mac
Xbox
News Search



ActiveXBox
Xbox News
Box Shots
Inside The Xbox
Released Titles
Announced Titles
Screenshots/Videos
History Of The Xbox
Links
Forum
FAQ



Windows XP
Introduction
System Requirements
Home Features
Pro Features
Upgrade Checklists
History
FAQ
Links
TopTechTips



FAQ's
Windows Vista
Windows 98/98 SE
Windows 2000
Windows Me
Windows Server 2002
Windows "Whistler" XP
Windows CE
Internet Explorer 6
Internet Explorer 5
Xbox
Xbox 360
DirectX
DVD's



TopTechTips
Registry Tips
Windows 95/98
Windows 2000
Internet Explorer 5
Program Tips
Easter Eggs
Hardware
DVD



ActiveDVD
DVD News
DVD Forum
Glossary
Tips
Articles
Reviews
News Archive
Links
Drivers



Latest Reviews
Xbox/Games
Fallout 3

Applications
Windows Server 2008 R2
Windows 7

Hardware
iPod Touch 32GB



Latest Interviews
Steve Ballmer
Jim Allchin



Site News/Info
About This Site
Affiliates
Contact Us
Default Home Page
Link To Us
Links

News Archive
Site Search
Awards



Credits
©1997-2012, Active Network, Inc. All Rights Reserved.
Please click here for full terms of use and restrictions or read our Light Tower Privacy Statement.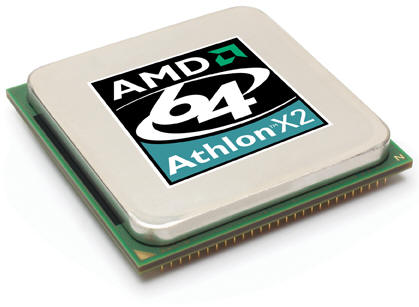 Product: AMD Athlon 64 X2 5000+ Processor
Company: AMD
Website: http://www.amd.com
Estimated Street Price: $696
Review By: Byron Hinson
Conclusion
Now that AMD has finally released the new Socket AM2 boards and integrated DDR2 into their chipsets we were not too surprised to see that there wasn't a major speed advantage over the older Socket 939 boards. The on-board DDR2 memory controller does however, provide very low DDR2 latency that can't be matched by anyone right now. Also the good news is that this launch comes at the right time to purchase DDR2 memory with dropping prices on high performance chips that really improve the general speed of your PC.
The big question everyone had before the AM2 processors were release was do they manage to overtake the Socket 939 boards in terms of performance? Well the answer is unfortunately no, yes it does provide high memory bandwidth, but this doesn't really increase the performance in real world tests that we have run, with some AM2 processors running against the equivalent Socket 939 chip at almost the same performance levels. But the good thing is that if you are building a new PC with upgradeability in mind, you should go with the AM2 board, it has a future in front of it and there is no real reason to go back to the older Socket 939 boards unless you have a much smaller budget. The AM2 based processors also offer much lower power consumption and are all Energy Efficient, running at much lower wattage when compared to any identical Socket 939 chip. This may not mean much to some people, but to me, I want my machines running as efficiently as possible and not only does the AM2 do that, it also runs much cooler than 939 chips do. The best example of this is that the 5000+ X2 consumes just 89W TDP, which is much lower than an Intel Pentium D 840 that consumes a massive 130W.
Final Comments
How It Grades
Installation: 92%
Performance: 94%
Manual: 91%
Gaming Performance: 93%
Windows Performance: 92%
Price: 85%
Overall: 92%
The 5000+ X2 processor we have reviewed today should become the chip of choice for new PC builders and AMD fans. It performs almost identically to the former top range 939 FX-60 processor which has since been replaced by the far more expensive FX-62 chip this month. This means that the 5000+ should become the choice for power hungry gamers and enthusiasts who can't justify paying out over £300 more for the slightly better FX-62. The CPU itself really comes into its own when playing games such as World of Warcraft and other games that make big use of the CPU instead of just using the Graphics Card for everything, this is where you see most of the gains in both frames per second and in loading times.
So my final verdict? The 5000+ X2 processor has an excellent low-latency DDR2 memory controller, it's the right time to move to DDR2 memory. The low power consumption and the means for over clocking without over heating your new chip is a must. The performance in the future environment of Windows Vista is also very promising with some very good results in Windows Vista Beta 2 running in 64-bit. The only negative I can find is that it's a fraction overpriced in my mind, but then most processors seem to be and it isn't any more expensive that other processors in its range. Overall AMD has laid down the gauntlet to Intel, let's hope AMD continue making excellent processors and cutting down the power consumption. AMD's brand new high-end Dual-Core CPU offers a lot for the money you are paying out, it outguns the Intel Pentium 965 Extreme Edition which costs a bit more than the 5000+ AMD processor, so if you are looking for a new motherboard and processor and don't mind paying out for DDR 2 memory, go for it.
Big thanks to AMD for helping us out.

Feel free to comment on the review here.
Specs & Package
Overall Score
92%
Version Reviewed
AMD Athlon 64 X2 5000+
Release Date
Out Now
In The Box?
Processor
Heatsink
The Good Points
Speed
Low Power Consumption
Great for gaming
64-Bit
Virus Protection
Future proof
The Bad Points
Price
Windows XP 64-Bit still lacks drivers