DirectX
ActiveMac
Downloads
Forums
Interviews
News
MS Games & Hardware
Reviews
Support Center
Windows 2000
Windows Me
Windows Server 2003
Windows Vista
Windows XP



News Centers
Windows/Microsoft
DVD
Apple/Mac
Xbox
News Search



ActiveXBox
Xbox News
Box Shots
Inside The Xbox
Released Titles
Announced Titles
Screenshots/Videos
History Of The Xbox
Links
Forum
FAQ



Windows XP
Introduction
System Requirements
Home Features
Pro Features
Upgrade Checklists
History
FAQ
Links
TopTechTips



FAQ's
Windows Vista
Windows 98/98 SE
Windows 2000
Windows Me
Windows Server 2002
Windows "Whistler" XP
Windows CE
Internet Explorer 6
Internet Explorer 5
Xbox
Xbox 360
DirectX
DVD's



TopTechTips
Registry Tips
Windows 95/98
Windows 2000
Internet Explorer 5
Program Tips
Easter Eggs
Hardware
DVD



ActiveDVD
DVD News
DVD Forum
Glossary
Tips
Articles
Reviews
News Archive
Links
Drivers



Latest Reviews
Xbox/Games
Fallout 3

Applications
Windows Server 2008 R2
Windows 7

Hardware
iPod Touch 32GB



Latest Interviews
Steve Ballmer
Jim Allchin



Site News/Info
About This Site
Affiliates
Contact Us
Default Home Page
Link To Us
Links

News Archive
Site Search
Awards



Credits
©1997-2012, Active Network, Inc. All Rights Reserved.
Please click here for full terms of use and restrictions or read our Light Tower Privacy Statement.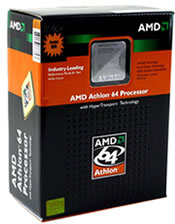 Product: AMD Athlon 64 4000+
Company: AMD
Website: http://www.amd.com
Estimated Street Price: $500
Review By: Byron Hinson
Setup & Components
For our AMD 4000+ Processor review we decided to do away with our older Asus AV8 Deluxe Motherboard, we wanted one of the latest PCI-Express based boards with good memory support. We decided to go with a Sapphire Axion RS380AS9-A58S Socket 939 Motherboard, while this isn't the most advanced on the market right now it does the job well for us. Instead of going with onboard sound we also added a SoundBlaster Audigy 2 sound card, we have also added 2 Gigabytes of Dual Channel Memory, although most of you can get by with just the 1 Gigabyte, as we use this machine for all of our main reviews we went with more, and the Crucial Ballistix Memory is excellent.
Athlon 64 4000+ ClawHammer
Akasa AK-913 Evo 33 Cooler
Sapphire Axion RS480AS9-A58S Socket 939 Motherboard
2gb Crucial Ballistix PC3200 DDR400 Memory
Crucial ATI X850 XT 256MB PCI-Express Graphics Card
Sound Blaster Audigy 2
1-Maxtor MaxLine III NCQ 250GB 7L250SO SATA 16MB Cache Hard Drive
1-80 GB Western Digital 7200RPM IDE Hard Drive
1-Maxtor OneTouch II 250GB External Firewire/USB 2.0 16MB Cache Hard Drive
Sony Dual Layer DVD-RW DRU700A Drive
GDI Black Gold Digital TV Card
Microsoft Wireless Optical Desktop
Antec 480 Watt NeoPower PSU
Apple 20" Anodized aluminum Cinema Display
For future reviews our system will be getting better but this is our starting block. Our reviews will cover the mainstay - Windows performance along with benchmarks and information from a range of programs that many of our readers will use such as Doom 3, Half Life 2, Farcry, 3D Mark 2005 and more. In this review we will also be checking out Windows X64 performance.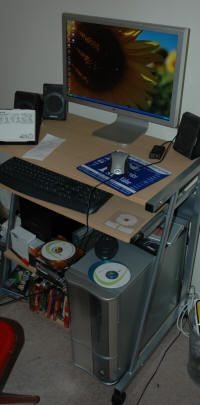 Processor Specifications
AMD Athlon 64 Details
Processor
AMD Athlon 64
Model
4000+
Ordering P/N (Tray)
ADA4000DEP5AS
Ordering P/N (PIB)
ADA4000ASBOX
Stepping
CG
Frequency
2400Mhz
HT Speed
2000
Voltage
1.50V
Max Temp
70°C
Thermal Power
89W
L1 Cache
128KB
L2 Cache
1MB
CMOS Technology
130nm SOI
Socket
Socket 939
The AMD64 core provides leading-edge 32-bit performance and support for future 64-bit applications
AMD64 technology provides full-speed support for x86 code base for uncompromising 32-bit performance, ready for 64-bit applications
40-bit physical addresses, 48-bit virtual addresses
Eight new (sixteen total) 64-bit integer registers
Eight (sixteen total) 128-bit SSE/SSE2/SSE3 registers
Including support for 3DNow!™ Professional technology and SSE3
A high-bandwidth, low-latency integrated DDR memory controller
Supports PC3200, PC2700, PC2100 or PC1600 DDR SDRAM
Unbuffered DIMMs
72-bit DDR SDRAM memory (64-bit interface + 8-bit ECC)
Up to 6.4 GB/s memory bandwidth
ECC protection enables increased system reliability
HyperTransport™ technology for high speed I/O communication
One 16-bit link up to 2000MHz
Up to 8 GB/s HyperTransport™ I/O bandwidth
Up to 14.4 GB/s total delivered processor-to-system bandwidth
Large high performance on-chip cache
64KB Level 1 instruction cache
64KB Level 1 data cache
Up to 1MB Level 2 cache
Improved branch prediction for greater accuracy in anticipating instruction calls
Enhanced TLB structures for better memory management of complex workloads