DirectX
ActiveMac
Downloads
Forums
Interviews
News
MS Games & Hardware
Reviews
Support Center
Windows 2000
Windows Me
Windows Server 2003
Windows Vista
Windows XP



News Centers
Windows/Microsoft
DVD
Apple/Mac
Xbox
News Search



ActiveXBox
Xbox News
Box Shots
Inside The Xbox
Released Titles
Announced Titles
Screenshots/Videos
History Of The Xbox
Links
Forum
FAQ



Windows XP
Introduction
System Requirements
Home Features
Pro Features
Upgrade Checklists
History
FAQ
Links
TopTechTips



FAQ's
Windows Vista
Windows 98/98 SE
Windows 2000
Windows Me
Windows Server 2002
Windows "Whistler" XP
Windows CE
Internet Explorer 6
Internet Explorer 5
Xbox
Xbox 360
DirectX
DVD's



TopTechTips
Registry Tips
Windows 95/98
Windows 2000
Internet Explorer 5
Program Tips
Easter Eggs
Hardware
DVD



ActiveDVD
DVD News
DVD Forum
Glossary
Tips
Articles
Reviews
News Archive
Links
Drivers



Latest Reviews
Xbox/Games
Fallout 3

Applications
Windows Server 2008 R2
Windows 7

Hardware
iPod Touch 32GB



Latest Interviews
Steve Ballmer
Jim Allchin



Site News/Info
About This Site
Affiliates
Contact Us
Default Home Page
Link To Us
Links

News Archive
Site Search
Awards



Credits
©1997-2012, Active Network, Inc. All Rights Reserved.
Please click here for full terms of use and restrictions or read our Light Tower Privacy Statement.



Product: CorelDraw 9 - Office Edition
Company: Corel Corporation
Website: http://www.corel.com
Estimated Street Price: $249.00 Upgrade: $169.00
Review By: Julien Jay
Corel Presentations 9
Corel Presentations 9.0 is a top of the range 'presentation maker' software that can be comparing to a Microsoft PowerPoint like software. It allows you to create multimedia shows, slide shows, to present your corporate, your products, your brand, your corporate mind, or other multimedia projects… In fact this software offers great and useful features, such as special animations effects that really look Pro. Creating shading off is as easy as in CorelDraw 9!! You can create slideshow on a variety of support: A4 paper, envelops, legal, letter… Sure you can use as background (Corel Presentations manages Background in a special tab so you can change it easily): pictures, shading off (different ones are available), textures, colors with or without motifs…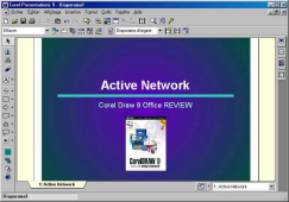 Corel Presentations offers high-end ready-to-use models that can be used for a wide range of needs (booklets, streamer, sales, poster, reward, report…). It displays tabs to switch between scene view, scene titles and scene preview. As it is MDI software you can work on different presentations at the same time: you can switch between multiple documents using the Corel Presentations taskbar. When you use"ready-to-use" models, a Corel Expert (not a wizard but an expert!) will guide and help you to customize your slide show. Slide-shows are printable: the print feature as always with Corel is very complete: you can choose what to print (1 slide or the entire slide-show), you can even print both sides papers, and sure you've got a very useful print preview feature that will show your slide-show in colours (if you've got a colour printer) or in Black & White, it also offers its own Printer Manager named Corel Print History 9.
Customizing Turbo Keys enables you to define a precise action to do when you push a keyboard key, for example A will switch to the next slide. As for every multimedia show you can add sound with the following formats: WAVE or MIDI. We regret that MP3 is not supported at the time (to reduce the file size). But it also supports Music CD! So you can insert your favourite music CD and during the Slide Show, Corel Presentations will play the tracks you have choose. Presentation also managed an address book but unfortunately it uses its own one and not the Microsoft MAPI defined one… Corel ScrapBook is a complementary tool that contains an incredible list of clipart, photos, sounds & videos to insert in your slideshow. Corel Presentations 9 open Corel Show on the GO is an innovative feature that create in a few second a single executable file that you can send or share as you want: when double click on the file the slideshow is automatically launched. Great isn't it? (It even supports Windows 3.x).
Corel Presentations 9 also manages notes that you can add to every slide… Help you said help? Well Corel included to its software an enhanced help system with perfect expert that will answer to your natural questions and the Corel Knowledge Base will unstick you!!! One thing as always been a problem in this kind of software: the alignment feature! But Corel Presentations 9 includes a very accurate alignment features that will allow positioning your elements precisely. Corel doesn't want you to make spelling or grammar errors so it comes with a spell-checker and the Grammatik tool. We also regret that Presentations 9 doesn't have a Corel button to launch other Corel software (Draw, Capture…) like in Corel Draw Office. Sure you can create graphs with Corel Presentations.
Finally the transitions effects of Corel Presentations 9 are certainly the most complete ones we've never seen. In a word Corel Presentations 9.0 even if it's not as ergonomic as Microsoft PowerPoint 2000 is to our point of view powerful and very accurate high-end software.