DirectX
ActiveMac
Downloads
Forums
Interviews
News
MS Games & Hardware
Reviews
Support Center
Windows 2000
Windows Me
Windows Server 2003
Windows Vista
Windows XP



News Centers
Windows/Microsoft
DVD
Apple/Mac
Xbox
News Search



ActiveXBox
Xbox News
Box Shots
Inside The Xbox
Released Titles
Announced Titles
Screenshots/Videos
History Of The Xbox
Links
Forum
FAQ



Windows XP
Introduction
System Requirements
Home Features
Pro Features
Upgrade Checklists
History
FAQ
Links
TopTechTips



FAQ's
Windows Vista
Windows 98/98 SE
Windows 2000
Windows Me
Windows Server 2002
Windows "Whistler" XP
Windows CE
Internet Explorer 6
Internet Explorer 5
Xbox
Xbox 360
DirectX
DVD's



TopTechTips
Registry Tips
Windows 95/98
Windows 2000
Internet Explorer 5
Program Tips
Easter Eggs
Hardware
DVD



ActiveDVD
DVD News
DVD Forum
Glossary
Tips
Articles
Reviews
News Archive
Links
Drivers



Latest Reviews
Xbox/Games
Fallout 3

Applications
Windows Server 2008 R2
Windows 7

Hardware
iPod Touch 32GB



Latest Interviews
Steve Ballmer
Jim Allchin



Site News/Info
About This Site
Affiliates
Contact Us
Default Home Page
Link To Us
Links

News Archive
Site Search
Awards



Credits
©1997-2012, Active Network, Inc. All Rights Reserved.
Please click here for full terms of use and restrictions or read our Light Tower Privacy Statement.



Product: CorelDraw 9 - Office Edition
Company: Corel Corporation
Website: http://www.corel.com
Estimated Street Price: $249.00 Upgrade: $169.00
Review By: Julien Jay
Advanced Features
Word 2000 integration permits to insert a Corel document into any Microsoft Word 2000 document. In fact this option opens Draw 9 Office in Microsoft Word so you can do exactly what you want in your Corel new document. It's a very useful feature. CorelDraw 9 also manages symbols using True Type fonts. So you can add to your texts some symbols that you can choose easily in very legible tab. Select the font, select the symbol and drag it and drop it on the Corel page. It's fast and easy!
As CorelDraw 9 the Office edition offers a complete print feature that displays print preview and that will check all problems that can occur when you print documents, such as size or color problems. You can also publish your work to print files. Publish to PDF feature allows users to create portable and viewable identical PDF file to their original file. This increases publishing flexibility of users as everybody can see PDF files for free (on PC or MAC). The only required thing is to have Adobe Acrobat Reader installed (it's a free software that can be downloaded in numerous languages). The PDF options are down sampling and compression options, bookmark and hyperlink options, job ticketing capabilities, font embedding, sub setting and even color management. You can also add comments to your PDF files to enhance Adobe Distiller compatibility.
It also supports Adobe Photoshop plug-ins and it comes with Digimarc ®, Digital Watermarking and Human software squizz!TM. TWAIN support: CorelDraw 9 Office edition perfectly supports TWAIN drivers and managed efficiently your scanner, digital cameras and other imaging devices. CorelDraw 9 Office comes as always with advanced scripting features that will automate your current tasks due to the Microsoft Visual Basic for Applications 6 integration. You'll also be able to insert Corel WordPerfect or Microsoft Word text files into your Corel composition. Finally Corel Tutor will learn you how to do advanced things in CorelDraw 9 Office edition: logos, bitmaps, complex documents…
Bitmap Editor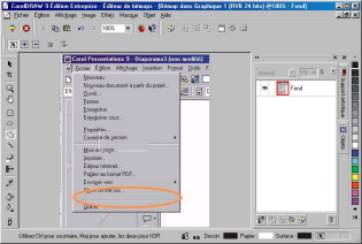 CorelDraw 9 Office edition also includes a Picture Editor. In fact this is a lighted release of Corel PhotoPaint but it's fully integrated to CorelDraw 9 office. In a new document, click file/import then select the picture file you want to import. You'll be able to position it precisely on the document before it appears. Then you can edit, enhance or apply some special effects, thanks to the Corel filters! But if you want to modify the bitmap, click on the 'change bitmap' button and CorelDraw 9 Office Edition Bitmap editor will start. This editor is also a painting tool that let users to use brush tools, blending techniques… It will also allow users to retouch their bitmap, to change colour, to move elements, to use the magic wand to detour some elements of the picture, to apply some special effects, to change the contrast and the lighting of your bitmap and much more...