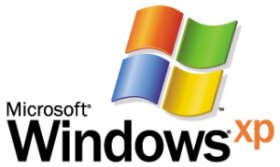 Miscellaneous Features
Windows XP also adds a little flavor to the Services screen in Computer manager. If you are coming from a Windows 9x environment, Services are applications that can run on a system without a user being actively logged on.

As you can see in this screenshot, when you select a service, the left side of the screen gives you ability to start or restart the service, as well as showing you a description of the service.
New Groups
There are some new groups that can be found in XP as well. The picture below is a little small, so if you want to see a full screen view of this screenshot, click on the image and a larger one will emerge.

Three Groups listed here are of interest and they are the "Network Configuration Operators," "Remote Desktop Users," and the "HelpServicesGroup." Network Configuration Operators are used to designate who can manage network configuration with administrative-type access. These users do not have administrative access to your system, but they do have it within the scope of "Network and Dial up Connections." Remote Desktop Users have the ability to log on remotely. The HelpServicesGroup seems to be a little…strange. The only member is a user called "Support_#####" which has a description of "This is a vendor's account for the Help and Support." This user account has the options of "Password Never expires" and "User can not Change Password" enabled. Could this be a back door to your system for Microsoft….maybe...? Speaking of User Accounts:
User Accounts
Just about every review that I've seen on XP has shown the new opening screen for User Accounts. They also show you that you can change the picture associated with a user account. What I hadn't seen poking around on the internet was this option:

Now this is a pretty good idea! I was pretty impressed with this improvement. Of course there will be persons saying "This is a security risk." OK. That may be true, but have you ever dealt with a user that could not remember his or her password? This option creates a boot floppy that holds authentication for a particular user account in case they forget what their password was. When the user attempts to Log on to the system, with an incorrect password this screen appears:

Do you see the last option? Click here to use your password reset disk. If you select this option, Windows prompts you for the disk and forces you to reset your password. The disk can be used over and over again, but your password is now different. The password is updated on the floppy when you change it. If you decide to set a password with a user account, XP gives you to the option to secure all of your files:

If you tell XP to make your files Private, it will… Maybe. I could still log on as Steve and see all of the songs that belonged to me. Maybe I forgot something, or perhaps this is something that will be fixed in a later release. What about Network Connectivity?