DirectX
ActiveMac
Downloads
Forums
Interviews
News
MS Games & Hardware
Reviews
Support Center
Windows 2000
Windows Me
Windows Server 2003
Windows Vista
Windows XP



News Centers
Windows/Microsoft
DVD
Apple/Mac
Xbox
News Search



ActiveXBox
Xbox News
Box Shots
Inside The Xbox
Released Titles
Announced Titles
Screenshots/Videos
History Of The Xbox
Links
Forum
FAQ



Windows XP
Introduction
System Requirements
Home Features
Pro Features
Upgrade Checklists
History
FAQ
Links
TopTechTips



FAQ's
Windows Vista
Windows 98/98 SE
Windows 2000
Windows Me
Windows Server 2002
Windows "Whistler" XP
Windows CE
Internet Explorer 6
Internet Explorer 5
Xbox
Xbox 360
DirectX
DVD's



TopTechTips
Registry Tips
Windows 95/98
Windows 2000
Internet Explorer 5
Program Tips
Easter Eggs
Hardware
DVD



ActiveDVD
DVD News
DVD Forum
Glossary
Tips
Articles
Reviews
News Archive
Links
Drivers



Latest Reviews
Xbox/Games
Fallout 3

Applications
Windows Server 2008 R2
Windows 7

Hardware
iPod Touch 32GB



Latest Interviews
Steve Ballmer
Jim Allchin



Site News/Info
About This Site
Affiliates
Contact Us
Default Home Page
Link To Us
Links

News Archive
Site Search
Awards



Credits
©1997-2012, Active Network, Inc. All Rights Reserved.
Please click here for full terms of use and restrictions or read our Light Tower Privacy Statement.


Product: Microsoft Sidewinder Dual Strike
Company: Microsoft
Website: http://www.microsoft.com/hardware
Estimated Street Price: $49.95
Review By: Byron Hinson
Dual Strike - Game Trials
Error processing SSI file

I have decided to test out the Dual Strike on a number of different games to see just how well in runs...From Quake II to Shadowman. The Gaming software already comes with a number of presets (Shown below) So I will be running most games with the presets that come with the gamepad. On another note, you can even use it on your desktop if you wanted to (But if has no left click option).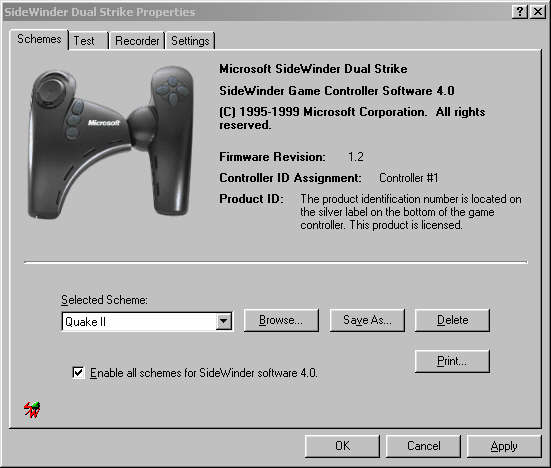 Quake 2
I installed Quake 2 with the latest patch (I haven't played it in a while) and then went into the control panel properties of the Dual Strike and setup the correct scheme for Quake 2 to use. I made sure that the game was setup for freelook and to use a joystick (It isn't as default) and then began my game. The first time of using the Dual Strike it is very confusing, I expected that the perspective control would allow complete fast 360 degree spinning and looking very easily, but it didn't seem to at first, which made doing fast turning like you do with the mouse in quake much harder. But my first opinion wasn't correct, if you take a look at the image below you have one aiming area from which the perspective controls spin fast, and two spin zones which allow you to turn, I didn't realize at first that I must push the game pad's perspective controller right across those areas to turn, and that the reason it was going slow was because of the mouse speed setting in Quake 2, nothing do do with the Dual Strike.

Now that is out of the way I got down to playing quake 2. The controls are very weird at first, but as usual, the more you play, the better they get. Side stepping is now far easier thanks to the movement pad, so dodging enemies is much faster now. The Perspective control is as Microsoft say, exactly like a mouse, the only noticeable problem I have with it (Not often) is getting the perspective control back centered without losing my aiming zone so much, with a mouse it is easy to just pick up and center in the mouse mouse, but with a controller it is a little bit more difficult. There is also no need for me to use the keyboard again in Quake 2 as all the buttons can be programmed into the Dual Strike, and there are so many buttons available that you won't even need them all.
Shadowman
Now then, Shadowman doesn't require freelook in the game, but I felt like trying out the joystick mode setting of the Dual Strike to see if it is actually playable. Surprisingly it wasn't too bad, it certainly doesn't match the smoothness of the Sidewinder Game pad Pro, but it is quite useable. In this mode you use the perspective control, it acts like it is a joystick, spinning the character around, walking him forwards and backwards etc.
Half Life
Half Life's controls are possibly the best I have come across for use with the Sidewinder Dual Strike FX mode. It uses up most of the buttons for swimming, reloading, jumping, using etc and has the freelook option just like Quake 2. The controls are a breeze once you have been using the Dual Strike for a few days, it is very much like using the mouse, but there is yet again no longer a need for the keyboard.
There are many other games I could go through, but if you have used a mouse and keyboard as your controller before, you pretty much know how the Dual Strike will work with them.