DirectX
ActiveMac
Downloads
Forums
Interviews
News
MS Games & Hardware
Reviews
Support Center
Windows 2000
Windows Me
Windows Server 2003
Windows Vista
Windows XP



News Centers
Windows/Microsoft
DVD
Apple/Mac
Xbox
News Search



ActiveXBox
Xbox News
Box Shots
Inside The Xbox
Released Titles
Announced Titles
Screenshots/Videos
History Of The Xbox
Links
Forum
FAQ



Windows XP
Introduction
System Requirements
Home Features
Pro Features
Upgrade Checklists
History
FAQ
Links
TopTechTips



FAQ's
Windows Vista
Windows 98/98 SE
Windows 2000
Windows Me
Windows Server 2002
Windows "Whistler" XP
Windows CE
Internet Explorer 6
Internet Explorer 5
Xbox
Xbox 360
DirectX
DVD's



TopTechTips
Registry Tips
Windows 95/98
Windows 2000
Internet Explorer 5
Program Tips
Easter Eggs
Hardware
DVD



ActiveDVD
DVD News
DVD Forum
Glossary
Tips
Articles
Reviews
News Archive
Links
Drivers



Latest Reviews
Xbox/Games
Fallout 3

Applications
Windows Server 2008 R2
Windows 7

Hardware
iPod Touch 32GB



Latest Interviews
Steve Ballmer
Jim Allchin



Site News/Info
About This Site
Affiliates
Contact Us
Default Home Page
Link To Us
Links

News Archive
Site Search
Awards



Credits
©1997-2012, Active Network, Inc. All Rights Reserved.
Please click here for full terms of use and restrictions or read our Light Tower Privacy Statement.


Product: Microsoft Sidewinder Dual Strike
Company: Microsoft
Website: http://www.microsoft.com/hardware
Estimated Street Price: $49.95
Review By: Byron Hinson
Settings
Error processing SSI file

There are a lot of preset schemes you can choose from thanks to the Dual Strike software installing them, and you can also easily edit them or write your own. Most of the information about the Dual Strike is available by double clicking on the Sidewinder Game Controller Software icon, from here you load up SideWinder Central (Below)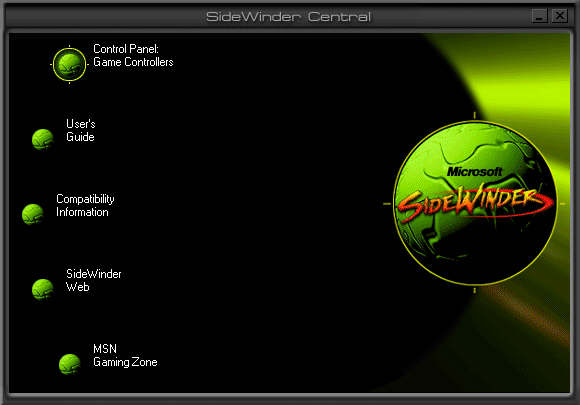 From here you can read up on the Dual Strike, check out the compatibility information, which is needed if you have a device such as one that uses the older Gaming Device software. You can also jump to the Control Panel option called Game Controllers.
Control Panel Settings
This is where most of the action is. From this area you can use, create and edit schemes which you then use with the Dual Strike. You can also test out the controller responses (Below) and change the Dual Strike FX and Joystick settings here just to suit you.
Schemes View the available schemes for your game pad. Select a scheme to make it active in your game, or to make changes to it. Print a scheme. View driver, firmware version, and controller ID information for your game pad.
Test Test the controls on your game pad to see if they're working correctly.
See how a programmed game action will work in your game.
Recorder Program game actions for a scheme, and assign them to game pad buttons. Program Dual Strike FX to game pad buttons. Make changes to recorded game actions.
Settings Change how the perspective control works in a scheme. Adjust spin zone and aiming zone settings for a scheme.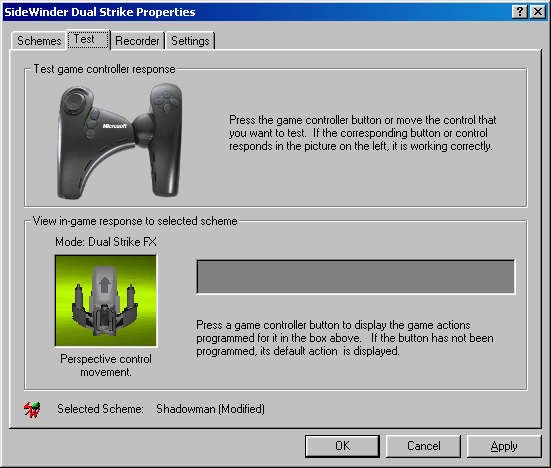 Main Settings
The main settings area is where you change the Dual Strike FX and Joystick settings, from here you can change the speed of which the perspective controller spins both horizontally and vertically, you can also set the spin zone up (Mentioned earlier) how you like here too.