DirectX
ActiveMac
Downloads
Forums
Interviews
News
MS Games & Hardware
Reviews
Support Center
Windows 2000
Windows Me
Windows Server 2003
Windows Vista
Windows XP



News Centers
Windows/Microsoft
DVD
Apple/Mac
Xbox
News Search



ActiveXBox
Xbox News
Box Shots
Inside The Xbox
Released Titles
Announced Titles
Screenshots/Videos
History Of The Xbox
Links
Forum
FAQ



Windows XP
Introduction
System Requirements
Home Features
Pro Features
Upgrade Checklists
History
FAQ
Links
TopTechTips



FAQ's
Windows Vista
Windows 98/98 SE
Windows 2000
Windows Me
Windows Server 2002
Windows "Whistler" XP
Windows CE
Internet Explorer 6
Internet Explorer 5
Xbox
Xbox 360
DirectX
DVD's



TopTechTips
Registry Tips
Windows 95/98
Windows 2000
Internet Explorer 5
Program Tips
Easter Eggs
Hardware
DVD



ActiveDVD
DVD News
DVD Forum
Glossary
Tips
Articles
Reviews
News Archive
Links
Drivers



Latest Reviews
Xbox/Games
Fallout 3

Applications
Windows Server 2008 R2
Windows 7

Hardware
iPod Touch 32GB



Latest Interviews
Steve Ballmer
Jim Allchin



Site News/Info
About This Site
Affiliates
Contact Us
Default Home Page
Link To Us
Links

News Archive
Site Search
Awards



Credits
©1997-2012, Active Network, Inc. All Rights Reserved.
Please click here for full terms of use and restrictions or read our Light Tower Privacy Statement.


Product: Microsoft Sidewinder Dual Strike
Company: Microsoft
Website: http://www.microsoft.com/hardware
Estimated Street Price: $49.95
Review By: Byron Hinson
Installation
Error processing SSI file

The Microsoft Sidewinder Dual Strike comes with a new version of the Sidewinder Gaming Control software. This version (version 4) has a number new features and a far better look than before.
What's New In Sidewinder Gaming Control Software 4.0
Schemes instead of profiles: Version 4.0 saves your game controller settings as schemes instead of profiles. You can use version 4.0 to convert your profiles to schemes, although you cannot convert a scheme back to a profile.
Profile Activator and Editor functionality in Control Panel: In version 4.0, the SideWinder Profiler Activator and Profile Editor components have been combined and incorporated into the Game Controllers application in the Windows 98 Control Panel. Now, you can create and manage schemes, adjust device settings, and test your device's buttons all from within the Control Panel.
Scheme-specific game settings: In the SideWinder Game Controller Software version 3.02 and earlier, the settings that you specified on the Settings tab of Control Panel: Game Controllers were global: they applied to any active profile for a particular controller. In version 4.0, these settings are specific to a particular scheme. The settings you select for your game controller are stored in your scheme.
Macro playback features: New features in version 4.0 include the ability to print schemes and advanced macro playback options.
Contents of compact disc: The version 4.0 compact disc that came with your SideWinder Dual Strike includes only the drivers and predefined schemes for the SideWinder Dual Strike. To use another type of SideWinder USB-only game controller, you need to install the software from the compact disc included in the box with that controller.
Permanent scheme deletion: In version 4.0, deleting a scheme removes it permanently from your hard disk. You can always reinstall the predefined schemes that are included with the SideWinder Game Controller Software 4.0 by re-running the Setup program on the version 4.0 compact disc and choosing to install schemes only.
Compatibility with earlier versions
Version 4.0 of the SideWinder software works only with SideWinder USB-only game controllers.
Installing version 4.0 doesn't delete or overwrite earlier versions of the SideWinder software.
You need to use version 3.02 or earlier to customize your version 3.02-compatible game controllers.
Installing the software is a breeze, you put in the CD and autoplay begins. You get the option to install the Sidewinder Gaming Control Software or to browse the CD. I clicked on the Software option and the setup kicked into action. The first couple of screens (Shown below) you are greeted with are just information tabs explaining what the new software and Dual Strike does.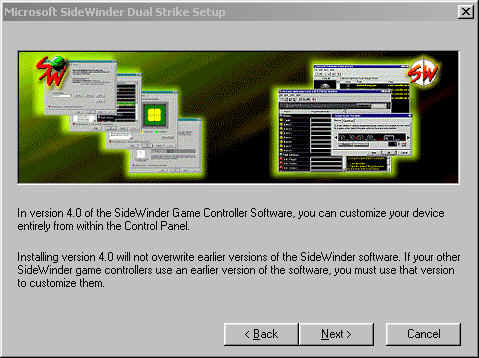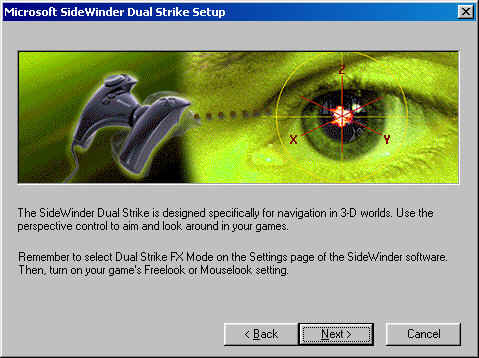 Once they are out of the way the actual installation begins. It only takes a few seconds to install. Once the installation has completed you get a new Sidewinder Gaming Control Software icon in your tray on the taskbar. Before you get a chance to click on anything, Microsoft's Windows Media player starts up and shows you a full motion video movie of how to use the Dual Strike...It includes footage of a player playing the 3-D shooter Half Life.
Next up I plugged the Dual Strike into my USB port on my PC. Almost straight away Windows 98 recognized the USB device as the Microsoft Sidewinder Dual Strike, it began to setup the drivers and then asked me to insert my Windows 98 CD. Once it had grabbed a couple of files off of the Windows 98 CD, it ejected the CD and I was ready to go.
Next I went to my Game Controllers icon on my control panel (Shown Below) to make sure that the Dual Strike's status was marked as ok. It was thankfully, so there has been no trouble getting the USB device installed.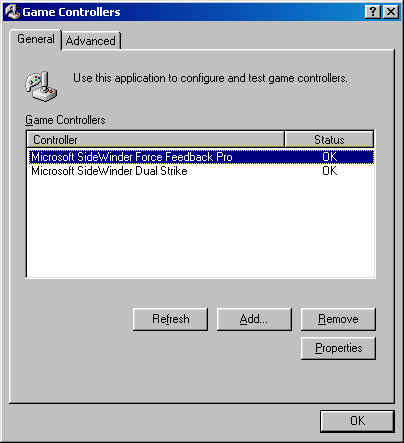 Finally I checked was my System Devices to make sure that everything had been setup correctly. I noticed that not only does it install the Dual Strike controller, but it also sets up a couple of other items called the Sidewinder Virtual Keyboard and Mouse (Shown Below), Obviously as the Dual Strike is supposed to resemble using 3 controllers at once.