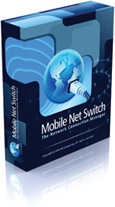 Introduction
I had the opportunity to check out the latest version Mobile Net Switch version 3.78 which is an upgrade to a powerful solution that allows you to easily maintain profiles between multiple networks and easily switch between them. The benefits of this are you don't have to reconfigure your network settings for each location: browser settings, printer settings, IP addressing, Wireless settings can all be available to you anytime you move between existing networks.
Setup & Configuration
Installation was quick and took less than 3 minutes to complete. To obtain the software itself, just go to the Mobile Net Switch download page and click the download button. This will download a 3.5 MB Windows Installer file, which downloaded in no time. After installation completes, you can launch the Mobile Net Switch program from the All Programs directory and enter the registration code if you bought one, or use the 45 day full trial version if you decide not to. The software starts with a prompt requesting whether you would like to have Mobile Net Switch Start with Windows. I clicked yes, so I can conveniently use the software when I need to.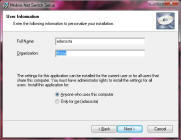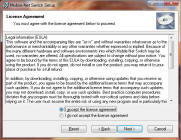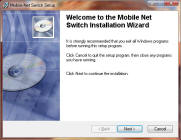 As you can see, Mobile Net Switch features a well organized layout, with the main menu displaying immediate options for setting up network profiles. I decided to setup multiple profiles that involve both a home network and a Windows Server Domain.
System Requirements:
Mobile Net Switch is compatible with the following versions of Windows: 2000, XP, Server 2003, Vista, Server 2008 and Windows 7.
Network Profiles
Mobile Net Switch's interface is intuitive and easy to use. As you can see in the screenshot, it does not take up much real estate on your screen. The program includes standard menu options. Under the options menu, you have the choice of having the program start minimized, automatically start (again), prompt for password, and you can choose to have buttons instead of tabs. In order to contain all the information, you cannot resize the window. If needed, you can export your settings to other locations. When the profile is all set up and ready to go, just click "Activate" and everything will be in place.
What's New
The New Proxy setting dialog feature allows you to enter the proxy server you want to use with your web browsers such as Internet Explorer, Firefox and now Google Chrome. Mobile Net Switch supports the following proxy options per profile:
Manual Proxy Server (select: "Use A Proxy Server for your LAN Connection")
Proxy server script (select: "Use automatic configuration script")
No Proxy Server (select: "Clear proxy server at profile activation")
You can also check the "Automatically detect settings" checkbox to instruct your web browser to use WPAD (Web Proxy Auto Discovery Protocol). You can configure what proxy exceptions to use. By default, Internet Explorer will exclude local addresses from the proxy server. You can configure this Internet Explorer setting via the "Bypass proxy server for local addresses" checkbox.
General Enhancements
The default behaviour of Mobile Net Switch (in all Windows versions) is to run on the Taskbar when active, and to go the Tray bar (next to the system clock) when minimized. With Windows 7, Microsoft enhanced the Taskbar. The default behaviour of Mobile Net Switch is to support this improvements added, instead of minimizing to the Notification, it is minimized to the Taskbar instead. You can still have Mobile Net Switch to minimize to the Notification Area, check the "Options" -> "Advanced" -> "Windows 7: Minimize to the tray bar" checkbox. This setting is effective immediately; you do not have to restart Mobile Net Switch.
This new version includes new features, enhancements and fixes as well.
It's advised you upgrade to this new version if you are using Internet Explorer 8 and/or Windows 7.
I noticed on Windows 7 I had to disable User Account Control (UAC) to activate Shared Settings (UAC blocks write access for all programs, not running in Admin mode, to the "HKEY_LOCAL_MACHINE\SOFTWARE" registry location).
Mobile Net Switch has added numerous improvements since the last version we reviewed, 1.96.
Advanced Options
When you click the "Advanced" button, you will be able to configure several options. For example the Windows Firewall state for the selected network connection. The DNS Suffix and network Metric.
Wireless Zero Configuration
The Wireless Zero Configuration tab allows you to configure a Wireless network you want Mobile Net Switch to connect to when activating a profile. Mobile Net Switch uses the WZC service in Windows to configure your wireless connection. In many situations, Windows will automatically connect your machine to a wireless access point as soon as you are in range. However, if you want to switch between access points, or do not want Windows to connect automatically. You can use the Wireless Zero Configuration features of Mobile Net Switch.
Desktop tab
The Desktop tab of Mobile Net Switch allows you to specify desktop related settings like the wallpaper, numlock state and display resolution. These settings are straightforward. You can for example decide you want the sound volume of your system muted when at work, and set to 80% when at home. You can also modify the numlock state. This can be used when you connect an external keyboard to your laptop.
System tab
The System tab of Mobile Net Switch allows you to configure important system settings for each profile.
Printers
You can select your default printer for each profile. When you click the Printers label, you will be able to add printers or refresh the printer list.
Local Time Zone
If you travel between time zones, you can select your Mobile Net Switch profile to automatically configure the correct time zone for your machine.
Outlook MAPI and E-mail Account settings
This unique feature allows you to switch between MAPI profiles and also allows you to select the default E-mail account setting for the selected MAPI profile. Restart Outlook for the Default E-mail account option to become effective.
Power Schemes
To switch between Power Schemes, select the required power scheme from the drop down box. This allows you to select the "High Performance" scheme while you are at your desk. And the "Power Saver" scheme while on the road.
Hosts tab
The Hosts tab of Mobile Net Switch allows you to set IP routes, a dynamic SMTP server for your email program and the content of your hosts file for each Mobile Net Switch profile.
Mobile Net Switch is easy to use and the interface has been designed to be very intuitive. Mobile Net Switch however also allow you to do more advanced tasks like locking down profiles to prevent modifications and special configuration to several parts of Mobile Net Switch.
Importing current Windows settings into a profile
When you create a new profile, you can select to create an empty profile, or to import the current Windows configuration to the new profile. By default, Mobile Net Switch will detect all possible settings. You can uncheck on or more settings. Mobile Net Switch will remember your selection the next time you create a profile or import settings.
When importing settings to a selected profile, you can also double-click the icon left of the selection to quickly import the selected setting.
Final Comments
How It Grades
Ease Of Use: 87%
Interface: 90%
Manual: 94%
Cost: 87%
Features: 95%
Overall: 90.6%
Mobile Net Switch continues to be a solid solution even on Windows 7 where I still encountered issues connecting the OS between different types of networks and still trying to maintain HomeGroup. Mobile Net Switch helps resolve this by making it easy to move between these environments without the complexity of having to tinker with TCP/IP settings, reset profiles for programs and applications. Users will appreciate the added support for new products and technologies on the market such as Windows 7 and Google Chrome. I also like the enhanced Network Proxy dialog and general enhancements. Definitely a worthy upgrade both business and home users can benefit from. For first time users, the price includes free upgrades for life - you can't beat that!
Resources
Specs & Package
Overall Score
90.6%
Version Reviewed
3.78
Release Date
Out Now
In The Box?
Download / Manual Online
The Good Points
Simple, Cheap
Windows 7 Support
Free Upgrades for Life
The Bad Points
More Features Needed
Reviewers PC Setup
PC Required
Mobile Net Switch supports the following Windows versions;
- Windows XP
- Windows Vista (x86 and x64)
- Windows 7 (x86 and x64)
- Windows Server 2000
- Windows Server 2003 (x86 and x64)
- Windows Server 2008 (x86 and x64)
- Windows Server 2008 R2

The program also functions when using Windows NT 4.0 when WMI is installed. WMI is a Microsoft extension to Windows which is installed by default on Windows 2000, XP, Windows 2003, Windows 2008, Windows Vista and Windows 7. (Please note; using Mobile Net Switch on Windows NT is not supported but will function correctly on most systems when WMI is installed)