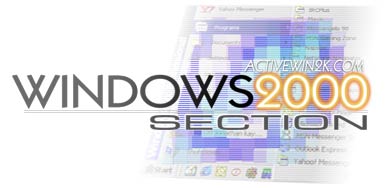 Windows 2000 Bugs & Fixes
Cannot Upgrade Windows 95/98 Computers That Dual Boot Windows 2000 or Windows NT
The information in this article applies to:
SYMPTOMS
If your computer is configured to dual boot between Windows 95/98 and Windows NT, when you upgrade from Windows 95/98 to Windows 2000 Professional, you may receive any of the following error messages:
Windows 2000 Setup does not support upgrading from Windows if you have multiple operating systems installed. Setup will now exit.
or
Other Operating Systems Found

You cannot upgrade this Windows installation to Windows 2000, because you have more than one operating system installed on your computer. Upgrading one operating system can cause problems with files shared by the other operating system, and is therefore not permitted.
This message appears after the upgrade report has been generated.
CAUSE
Microsoft does not support upgrading Windows 95/98 installations in a dual-boot configuration. Because some of these operating systems (Windows 2000, Microsoft Windows NT 4.0) may share some files and folders (such as the Program Files folder), the other installed operating system could be affected.
During the Windows 95/98 upgrade, some files that are specific only to Windows 95/98 are deleted from the drive. Because the other operating system may sharing these files, there is no way for Setup to determine that this may be the case.
RESOLUTION
To upgrade Windows 95/98 to Windows 2000 Professional, you need to remove the other operating system. When you remove the dual-boot operating system, make sure the following files are removed from the hard disk:
Ntldr

Ntdetect.com

Boot.ini

Return To The Windows 2000 Bugs & Fixes Section