Articles
AskAW
DirectX
Downloads
Drivers
ActiveDVD
Flink Ink
Internet Explorer
Forums
Interviews
MP3
News
MS Games & Hardware
Reviews
Support Center
Windows 2000
Windows Me



News Centers
Windows/Microsoft
DVD
Hardware
X-Box
News Search



Windows 2000
Available Systems
Benefits
Bugs & Fixes
FAQ
Drivers
History
Introduction
Links
Pro Features
Server Features
Upgrade Issues
Utilities
Patches



FAQ's
Windows 98/98 SE
Windows 2000
Windows Me
Windows "Whistler"
Windows CE
Internet Explorer 5
Internet Explorer 4
X-Box
DirectX
DVD's



Tips & Tricks
Registry Tips
Windows 95/98
Windows 2000
Internet Explorer 4
Internet Explorer 5
Windows NT Tips
Program Tips
Easter Eggs
Hardware
DVD



ActiveDVD
DVD News
DVD Forum
Glossary
Tips
Articles
Reviews
News Archive
Links
Easter Eggs
Drivers
Movie Posters
Top DVD Sellers

DVD EXPRESS



ActiveXBOX
X-Box News
Inside The X-Box
Announced Titles
Rumoured Title
Screenshots/Videos
History Of The X-Box
Press Releases
Links
Community
FAQ



Site News/Info
About This Site
Affiliates

Community Competition

Contact Us
Default Home Page
Link To Us
Links

Mailing List
Member Pages
Message Board
News Archive
Poll Archive
Site Search
Awards



Credits
©1997/2001, Active Network. All Rights Reserved.
Layout & Design by Byron Hinson. Content written by light tower the Active Network team. Please click here for full terms of use and restrictions or read our Privacy Statement.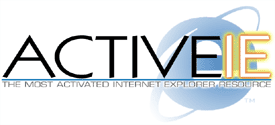 Internet Explorer Tips
Outlook Express Offline
One of Outlook Express's coolest new features is its ability to handle offline reading of mail and news. Although it may take a while to learn how to use the offline abilities to their full power since they aren't very documented, the time will be well worth it :). News benefits most from OE's new offline features, although mail also benefits.

---

Mail

Using OE's Mail features is pretty straightforward. First, you can control how OE dials (or doesn't) at startup under Tools | Options | Dial Up tab.

If you want to work with your Inbox offline, be sure to choose File | Work Offline. This way, if you have any HTML-based mail messages, OE will not try to dial in. Next up is composition of messages. Again, it is pretty straightforward, except that you should be sure to choose File | Send Later to send the message to the Outbox; otherwise, OE will try to send immediately, and hence, dial in (BTW, you can modify this behavior under Tools | Options | Send tab). Once you get back online, just hit the Send and Receive Button to send the contents of your Outbox.

---

News

The cool new offline stuff is with the News, though! To start, go into any newsgroup and choose Tools | Download the Newsgroup. You'll have a plethora of options, letting you choose what you want to download, etc. Once that's done, be sure that File | Work Offline is checked. If you downloaded the new messages along with the headers, you'll be able to view 'em offline and even respond to the messages. Just be sure that when posting the message, you choose File | Send Later to let it wait in the Outbox, until you're ready to go online and send everything in your Outbox.

Now, let's start automating the offline process. You can mark individual newsgroups; the options you specify here will affect how the newsgroup is downloaded ... but we'll talk about that later. In the newsgroup you want to mark, choose Tools | Mark for Retrieval | <option>. Select the option to correspond with the way you want to download the newsgroup; for instance, you can specify one newsgroup to download messages and headers, while making another newsgroup download only headers.

Once you've marked and setup the newsgroup, the fun stuff begins. Let's try Tools | Download <account> first. What this does is first, it checks for new messages, and then performs the actions that you've specified for marked newsgroups. For instance, if you marked a newsgroup for retrieval of new headers, OE will do just that. Then, make sure File | Work Offline is checked and you can view your messages at your leisure!

Tools | Download All is similar, but there are a few important differences. First, in addition to newsgroup stuff, it downloads all your mail for your mail accounts. Secondly, it doesn't check for new messages in all the newsgroups of an account. It just performs actions you've specified for Mark for Retrieval.

Conclusion

That's all the time we have today =). Spend some time customizing the toolbar to your liking, and have fun! If you've got any questions, feel free to email me Byron here at ActiveIE! Have fun, and enjoy IE4!