Articles
AskAW
DirectX
Downloads
Drivers
ActiveDVD
Flink Ink
Internet Explorer
Forums
Interviews
MP3
News
MS Games & Hardware
Reviews
Support Center
Windows 2000
Windows Me



News Centers
Windows/Microsoft
DVD
Hardware
X-Box
News Search



Windows 2000
Available Systems
Benefits
Bugs & Fixes
FAQ
Drivers
History
Introduction
Links
Pro Features
Server Features
Upgrade Issues
Utilities
Patches



FAQ's
Windows 98/98 SE
Windows 2000
Windows Me
Windows "Whistler"
Windows CE
Internet Explorer 5
Internet Explorer 4
X-Box
DirectX
DVD's



Tips & Tricks
Registry Tips
Windows 95/98
Windows 2000
Internet Explorer 4
Internet Explorer 5
Windows NT Tips
Program Tips
Easter Eggs
Hardware
DVD



ActiveDVD
DVD News
DVD Forum
Glossary
Tips
Articles
Reviews
News Archive
Links
Easter Eggs
Drivers
Movie Posters
Top DVD Sellers

DVD EXPRESS



ActiveXBOX
X-Box News
Inside The X-Box
Announced Titles
Rumoured Title
Screenshots/Videos
History Of The X-Box
Press Releases
Links
Community
FAQ



Site News/Info
About This Site
Affiliates

Community Competition

Contact Us
Default Home Page
Link To Us
Links

Mailing List
Member Pages
Message Board
News Archive
Poll Archive
Site Search
Awards



Credits
©1997/2001, Active Network. All Rights Reserved.
Layout & Design by Byron Hinson. Content written by light tower the Active Network team. Please click here for full terms of use and restrictions or read our Privacy Statement.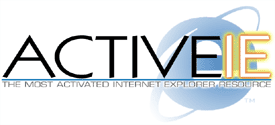 Internet Explorer Tips
Using AutoComplete URL's

A new feature called AutoComplete fills in URLs you've recently typed, based on the first few letters you enter in the Address Bar. But if you are tired of waiting for AutoComplete to guess which site you are looking for, just type a few letters until AutoComplete makes its first guess, then press the up or down arrow key to cycle through recent URLs that begin with the characters you typed. Or hold down the Ctrl key while using the mouse to pick a URL from the drop-down-box.