Product: Norton SystemWorks 2000 Standard
Company: Symantec Corporation
Website: http://www.symantec.com/sabu/sysworks/basic
Estimated Street Price: $59.95
Review By: Alan Scher
Norton SystemWorks 2000 Introduction
Norton SystemWorks, now in it's third major version (3.0) just keeps getting more refined and easier to use.
It gives you five easy-to-use utilities in one fully integrated suite. It features the latest complete versions of Symantec products. Norton Utilities is the industry leader in detecting, repairing, and preventing hardware and software problems. Norton AntiVirus offers the world's most popular and most powerful anti-virus capabilities. Norton CleanSweep safely and completely removes unneeded programs and files. Norton CrashGuard protects your work against system crashes and screen freezes. And access to Norton Web Services helps you keep your system and applications up to date with the most current software patches, virus definitions, and hardware drivers. All five of these integrated programs can be updated with a single click. On the downside if you use all the default settings, SystemWorks uses quite a lot of system resources.
Fortunately you can easily configure which programs to launch at Startup. Also included with Norton SystemWorks is a free Bonus Pack of handy file-compression, web, fax, encryption, and Year 2000 utilities. And by registering your software and signing up for the LiveAdvisor service, you'll get product support, LiveUpdate alerts, user tips and tricks, and upgrade notifications delivered directly to your desktop via the Internet-automatically, and customized to your individual preferences. Following are the highlights of each of the five utilities.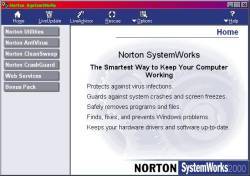 Norton Utilities
Norton Utilities finds, fixes and prevents Windows problems. It can provide continuous monitoring of your system. It contains some very effective disaster recovery tools as well as several excellent utilities to boost system performance and optimize the swap file and the Windows registry. The only feature of the entire suite that I don't think is an improvement is Norton Disk Doctor. This feature is a replacement for Windows Scandisk. In the previous versions Disk Doctor was much faster than Scandisk, especially after an improper shutdown. In this version it took almost twenty minutes to scan my 6.4 GB hard drive, in the previous version it only took a minute or so. I called Symantec tech support about this and was told that this was normal because Disk Doctor has been modified to accommodate the new larger hard drives. Fortunately there is a setting to enable the user to use Windows Scandisk instead.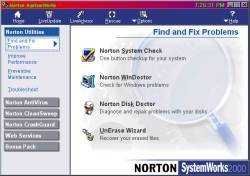 Norton AntiVirus
Norton AntiVirus automatically protects against all viruses, Trojan horses and malicious ActiveX and Java Applets. Updating virus definitions is done with a single click via LiveUpdate. It couldn't be any easier to keep up to date. One major improvement added to this version is fully integrated e-mail scanning for POP3 mail clients. E-mail attachments are scanned as you receive them, even ZIP files. All features of Norton AntiVirus can be configured to suit the user and run automatically.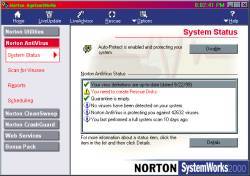 Norton CleanSweep
Norton CleanSweep has lots of various features to help free up disk space and to safely remove unnecessary files from your system. Backups are made of everything you delete and can easily be restored if you make a mistake. You can set a time limit for saving the backups or delete them manually. CleanSweep can be set to monitor all installations for a more a more efficient uninstall than Windows Add/Remove provides. Letting it run from startup can be quite a resource hog though. One of my favorites is Fast & Safe Cleanup. This application finds and deletes specific file types that are safe to remove such as Temp files, browser cache files and files in the recycle bin. Used regularly this will keep your hard drive free of clutter. Another favorite of mine is Registry Sweep; this one cleans and optimizes the Windows Registry by removing invalid entries. Automatic backups are made to guard against accidents.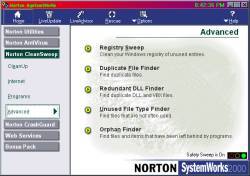 Norton CrashGuard
This program protects against data loss caused by application crashes. It runs in the background and intercepts crashes, giving you a chance to save your data. The Crash Assistant walks you through the recovery process. A feature called Quick Reload gets you back to the Web page you were on before a browser crash. Many times a feature called AntiFreeze can revive a program when it stops responding.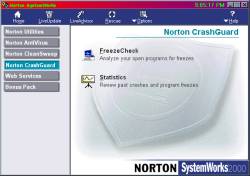 Norton Web Services
Norton Web Services is a Symantec website that provides several web based utilities. It is a paid subscription service, but a coupon is enclosed with SystemWorks for six months free. The main feature is LiveUpdate Pro, which automatically scans your system and locates updates for your hardware drivers and other installed software. There is also the PC Resource Center, which has helpful links to Symantec as well as other useful sites.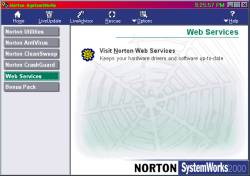 Final Comments
The installation routine is greatly improved, which provides simplicity for beginners, plus the option to selectively disable specific components within the core tools for power users. Plus, one can initially set SystemWorks to different levels of protection. Full Time Automatic Protection runs all of background monitors possible. Manual Protection runs only the antivirus software and schedules the execution of diagnostic software for after-hours. A Custom set lets you customize all aspects of the monitoring process. Both power users and beginners will be pleased.
How It Grades
Installation: A
Ease of Use: A-
Interface: A
Features: A
Cost: A
Overall: A
When it comes to new features, AntiVirus seems to have received the most updating in the suite. Most significant is its new E-mail Protection, which works by actually acting as a proxy server between your e-mail programs and your ISP's mail servers, and checking your email messages and attachments for viruses even before they are written to your drive. Since most of the latest widely publicized virus threats involved non-executable file types, AntiVirus now checks all files by default.
Symantec added more functionality, speed, and configurability to SystemWorks 2000 and kept the price the same, making SystemWorks 2000 an excellent suite at a decent price. This is the third version of SystemWorks that I have had on my system. I find it indispensable.
Overall Score
94%
Version Reviewed
Norton SystemWorks 2000 Standard
Release Date
Out Now
In The Box?
1 CD
3 Emergency Floppies
1 Instruction Manual

The Good Points
Great Virus Detection
Recovery Process
Interface

The Bad Points
Resource Hog
Reviewers PC Setup
Pentium II 333
Windows 98 Second Edition
256 MB SD Ram
Turtle Beach Montego Sound Card

Kenwood 52x True X CD Rom Drive


19" Sony GDM-F400 Monitor


ATI Rage Pro AGP Graphics Card

PC Required
IBM PC or 100% compatible computer


Intel 80486SX or higher processor


Windows 95 or 98 operating system


16 MB of RAM (32 MB recommended)


116 MB of available hard disk space


CD ROM Drive (double-speed or higher)


256 color VGA or better video


Sound card (optional)


Iomega ZIP or JAZ drive (optional)