Product: Norton Internet Security 2000
Company: Symantec Corporation
Website: http://www.symantec.com/
Estimated Street Price: $53.95
Review By: Julien Jay
Introduction
Every Internet user is aware that its Internet connection is a potential risk source. Peter Norton is your best computer friend, that's why Symantec has just released its most innovative Internet dedicated software named Norton Internet Security 2000 (NIS 2k). The aim of this software that includes Norton Antivirus 2000 for free is to protect users from every kind of internet threats: hackers, malicious ActiveX or Java code, cookies… It also allows protecting users' children by blocking inappropriate websites. So here's my complete review of this great product.
Setup
After inserting the NIS 2k CD an auto play box appears, a click on the install button launches the setup which is the first Symantec one build on the Microsoft Windows Installer technology with Wise Installer (not installshield, curious…). Setup takes 5 minutes to complete and one reboot later you're a protected internet surfer ! Strangely NIS doesn't support Windows 2000… But Symantec has told us that future releases will. We really hope so because Windows NT users needs safety on the net as the others Windows users !
Getting Started
When NIS 2k starts for the first time it asks you to create a supervisor account and eventually accounts for other family members such as children, teenagers… Once this is done a small & beautiful NIS 2k icon appears in the tray notification area of Windows (near the windows clock on the taskbar). When you double click on this icon the NIS 2k main window appears: as you can see it's fully integrated with Norton System Works 2000 due to its full support of the new Norton Symmetry technology. (Note: that if Norton System Works 2000 is not installed on your system, the setup asks you if you want to enable integration or not and when you'll install SystemWorks 2000, NIS will automatically integrate to the default main SystemWorks window).
The user interface of NIS is almost clear and useful enough for all kind of users. Now you should set your privacy and security levels at your convenience. Be careful if you set this levels to High you'll be prompted each time you visit a web site to create new firewall rules. The medium settings are best compromise between security and ease of use. The status tab of NIS reports quickly all the blocked and allowed information that NIS monitors for every category. A click on the arrow next to each category will show you exactly what was blocked or allowed.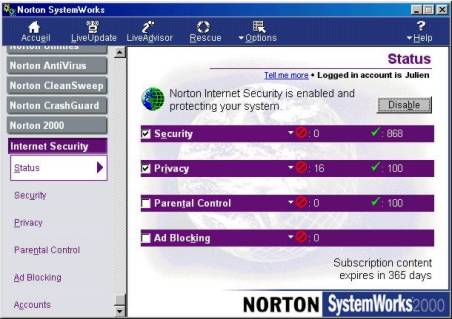 How It Works
In fact NIS 2k provides a barrier, named a firewall between your computer and the Internet. It's a filter that blocks or enables connections and data transfers in both directions. This firewall will protect users' data and privacy. Each time you visit a new website, NIS will automatically create firewall rules but you can also create your own security rules.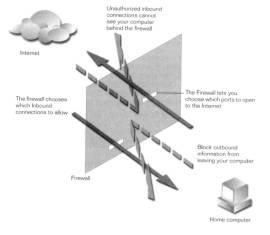 What It Does
Norton internet Security 2000 will block your privacy information that you don't want to share such as your email address, your postal address, your phone number and it'll prevent other users to give private information without your authorization such as your Credit Card number. It really works since for example if a website form asks you your phone number and if you type it when NIS is running, NIS will ask you if you want to send this confidential data.
It'll also prevent children to access potential harmful risk websites or even chat software (or even email software: you can tweak easily this setting). NIS comes with a one year of free updates to ensure that you've always got the latest 'Black web site list' thanks to its LiveUpdate technology. You can also specify manually which websites are allowed or blocked. NIS can even block Cookies, but with this feature enabled a lot of websites will refuse to work, as they required a cookie to save users preferences… (Cookies can be tracked with Norton CleanSweep 2000).
Your safety is the most important thing so NIS protects you from malicious internet ActiveX controls or Java applets by monitoring them and eventually asking you if you want to run these applets each time you visit a website that uses this technology. But once again if this feature is enabled your Internet experience won't be convenient.
As it comes with Norton Antivirus, your incoming emails will be scanned to check that they don't contain any viruses… But be careful because you have to often run LiveUpdate to retrieve the latest viruses definition updates.
NIS has got a unique feature that will prevent websites to display banners, adds, or popup windows to speed up your Internet connection. If you turn it on most of the time you won't see them automatically and when it doesn't work you can drag the banner to the NIS trashcan.
By blocking all the Internet ports, NIS will protect you from hackers' attacks. When you're attacked you'll receive an ALERT message telling you that someone is trying to hack your computer. This feature is really useful for high-speed connection users: xDSL, cable… It also blocks Back Orifice Trojan attacks.

NIS allows advanced & expert

users to define advanced opt ions such as the authorized HTTP ports, the firewall rules and much, much more…
Report Features
NIS will report in a very accurate & complete window all your Internet security statistics (blocked websites, blocked pictures…) as shown below (you'll be able to print them). It tracks every Internet connection, every visited websites, every program that uses Internet such as Microsoft Outlook, MS Money and much more…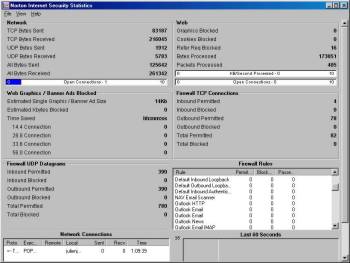 Is It Useful
Norton Internet Security 2000 really works and protects you, your children and your family from all the Internet threats. It's not a 'NoBo' like program… NIS is better than for example CyberPatrol to filter web sites, more it really protects your privacy and once again this works! If you try to send private information that you have defined NIS will block them until you're agree to send them. All Internet users, from the cool surfer to the passionate one, should use it. You can try it for free by downloading a preview Trial version at http://www.symantec.com/trial
Compatibility
Even if Norton Internet Security 2000 is a great software it may blocks few web sites you're trying to visit without displaying any error message or letting Microsoft Internet Explorer saying that there's a website error. In that case you have to close NIS and you'll be able to display correctly the web site. This is to our point of view a very bothering issue. Although we have seen that the software may "slow-down" some websites.
Conclusion
How It Grades
Installation: B+
Ease of Use: B-
Interface: A-
Features: A-
Cost: A-
Overall: B+

This affordable software is really great and useful. It'll increase your safety on the net. However there are some weak points such as the non-support of Windows 2000. Also the account management has to be improved as it got some leaks. Indeed it should ask at start-up which account to connect but it doesn't so if you forget to set your children account as the default start-up one your children's will be able to access to the net with no protection… We also deeply regret that the help is not an HTML based one… Except that, it's really innovative software that you should buy now!
Specs & Package
Overall Score
86%
Version Reviewed
Norton Internet Security 2000
Release Date
Out Now
In The Box?
1 CD
1 Year Updates
1 Instruction Manual
The Good Points
Great Security
The Bad Points
Resource Hog
Reviewers PC Setup
Pentium II 450
Windows 98 Second Edition
256 MB SD Ram
Sound Blaster Live!
G400/DXR3
DVD 10
PC Required
IBM PC or 100% compatible computer
Intel Pentium or higher
Windows 95 or 98 operating system

32 MB recommended
60 MB of available hard disk space
CD ROM Drive (double-speed or higher)
256 color VGA or better video
Sound card (optional)
Internet Connection