DirectX
ActiveMac
Downloads
Forums
Interviews
News
MS Games & Hardware
Reviews
Support Center
Windows 2000
Windows Me
Windows Server 2003
Windows Vista
Windows XP



News Centers
Windows/Microsoft
DVD
Apple/Mac
Xbox
News Search



ActiveXBox
Xbox News
Box Shots
Inside The Xbox
Released Titles
Announced Titles
Screenshots/Videos
History Of The Xbox
Links
Forum
FAQ



Windows XP
Introduction
System Requirements
Home Features
Pro Features
Upgrade Checklists
History
FAQ
Links
TopTechTips



FAQ's
Windows Vista
Windows 98/98 SE
Windows 2000
Windows Me
Windows Server 2002
Windows "Whistler" XP
Windows CE
Internet Explorer 6
Internet Explorer 5
Xbox
Xbox 360
DirectX
DVD's



TopTechTips
Registry Tips
Windows 95/98
Windows 2000
Internet Explorer 5
Program Tips
Easter Eggs
Hardware
DVD



ActiveDVD
DVD News
DVD Forum
Glossary
Tips
Articles
Reviews
News Archive
Links
Drivers



Latest Reviews
Xbox/Games
Fallout 3

Applications
Windows Server 2008 R2
Windows 7

Hardware
iPod Touch 32GB



Latest Interviews
Steve Ballmer
Jim Allchin



Site News/Info
About This Site
Affiliates
Contact Us
Default Home Page
Link To Us
Links

News Archive
Site Search
Awards



Credits
©1997-2012, Active Network, Inc. All Rights Reserved.
Please click here for full terms of use and restrictions or read our Light Tower Privacy Statement.


Product: Links LS 2000
Company: Microsoft
Website: http://www.microsoft.com/games/links2000
Estimated Street Price: $54.95
Review By: Mark Law
What a great time for a golf game to be released! Fall is here and winter is on its way. Golfers may not be on the courses in your town but they will be on Links LS 2000!
The Features
Tee off on 6 courses, 5 of them being new. Links LS 2000 also supports over 25 available add-on courses
Links LS 2000 features improved tree and foliage graphics with a new image capturing system providing twice as much detail in the vegetation
Fuzzy Zoeller, along with three other new golfers, join the cast to give you a total of 12 golfers to choose from
Two new commentators, including the witty CBS golf analyst David Feherty, provide complete play-by-play
Choose between 35 different game styles, including 5 new modes of play
Links LS 2000 brings out the natural beauty of golf with new SkyScape options, which accent the scenic splendor and realism of the course with a greater variety of selectable sky scenes
Leave the caddy at home with new Links Lessons designed to help new PC golfers get into the game quickly. New PC golfers will also be at ease with the ability to select between the new one-click swing in addition to the two-click, three-click, and Power Stroke swings
New Quickstart feature allows users to get on the green in only 2 clicks
Play free on the Zone. Now Links LS 2000 will be available for online matchmaking on the MSN Gaming Zone.
Installation & Settings
Installation of Links LS 2000 is a breeze with Autoplay, which gives you the following options:
Install -- installs Links LS 2000
Browse CD -- allows you to view files on the CD
View Readme -- Displays the Readme file
Exit -- exits Autoplay
During Installation, you can choose not to install some files to conserve disk space. Full installation requires 722MB. Once the game is installed, you have many options. You can get a game started immediately or you can customize your game to your liking. The options menu gives you these options:
Quick Start -- Starts a game immediately with a set type of round
New Round -- Gives you the option of what type of round you want to play
Resume -- Lets you continue a saved round
Online Play -- Lets you play via the internet. Using MSN Gaming Zone, LS Tour Online, and Other Connections.
Multimedia -- Allows you to enjoy many multimedia movies about various golf courses.
Virtual Tournament -- Allows you to join a tournament.
There is also a menu bar along the bottom of the screen that consists of the following:
Lessons -- Gives you lessons on swings, aiming, and so forth.
Options -- Access any of the game options, including player, game, course, and tournament settings, as well as a feature to import courses from Links 386.
Help -- Quick access to the online help section, also accessible by pressing the F1 key.
Exit -- Exits Links LS 2000.
Gameplay
The Gameplay in Links LS 2000 is so much like the real thing you would think you were on the course. When I first started the game I wanted to hop right in and see what it had to offer. I played a nice round of 18 holes in Hawaii and I was pathetic (you don't have to be the best golfer to enjoy this game). The putting is so realistic, you want to break your club as the computer player does it for you! The slopes and speed on the putts are very accurate. There are 4 different swing types in the game:
Easy swing -- Simple one click method
Classic swing (2 click) -- Two clicks (one click, hold, release, then click again)
Classic swing (3 click) -- Three clicks (click, click, click)
PowerStoke -- More complicated. Move the mouse back and forth while clicking to start and finish the swing.
Owners of old course add-ons from Links 99 will be happy to hear that all courses will be compatible with Links LS 2000.

Gameplay can be hard or easy. It is up to the player. You can change the settings to your liking. Warning: Frustration on these courses is as much as in real life!

Graphics

The graphics are very realistic. From the crowd that stands around you, to the grandstands and camera towers that loom around the course, you get a clear very distinct picture of what it is like to actually golf in real-life. Access really out did it with the quality of the graphics used in this program. The golfers you can choose from look very authentic and the real life players look almost exactly like the real thing!

Sound

The sounds are very real in Links LS 2000. As if you were playing in a real gold tournament, you can hear cheering and booing coming from the crowd. Plus, the commentators always have choice words for your shot. The sounds do give you the feel of playing with someone in real-life. The sounds also include normal everyday sounds, such as planes and animals, etc. Even though this is only a golf game,

Links LS 2000 maximizes the realism you could possibly get with the sound environment.

Screenshots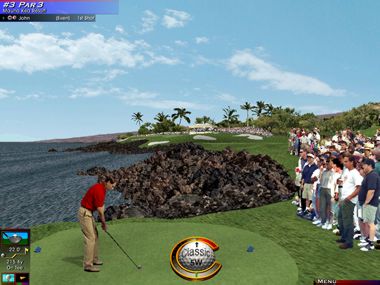 Final Comments
How It Grades
Gameplay: 94%
Accuracy: 96%
Graphics: 93%
Controls: 94%
Sound: 92%
Value: 91%
Overall: 93%
Links LS 2000 continues the Links series of golf games by Access well. It is as close to the real thing as you could get on today's gaming technology. By far, it trumps all other golf games out on the market. I really like to golf so the games came easy to me. However, with the menus, tutorials and improved interface even if you weren't a big golfer you would enjoy the game. The ability to play this game online (MSN Gaming Zone) makes playing the game all the more exciting! I really like this game and all the choices that it gives you – although somewhat overwhelming at first! The plethora of courses and different golfers is amazing as well. I'd recommend purchasing Links LS 2000! Well, back to the game – Four!
Overall Score
93%
Version Reviewed
2000
Release Date
Out Now (US)
In The Box?
3 CDs
1 Set of instructions
The Good Points
Detailed Graphics
Improved Interface
Good Music & Sound Effects
The Bad Points
Placing players in scenery could be improved
More professional golfers
Reviewers PC Setup
Pentium II 333
Windows 98 Second Edition
128 Meg SD-Ram
SoundBlaster Live! Value
17" LG Electronics Monitor
PC Required
Multimedia PC with a Pentium 200MHz CPU (or 166 MHz with MMX)
Microsoft Windows 95 or Windows 98 operating system, or Microsoft Windows NT Workstation 4.0 with Service Pack 3.
32 MB of RAM for Windows 95 or Windows 98; 64 MB of RAM for Windows NT
Quad Speed CD-ROM drive or faster.
Microsoft Mouse or compatible pointing device
1 MB video capable of 800x600 resolution in 32K colors.
32-bit sound card
Speakers or headphones required for audio.
60 MB of free hard disk space (minimum).
28.8Kbps or faster modem for head-to-head play