DirectX
ActiveMac
Downloads
Forums
Interviews
News
MS Games & Hardware
Reviews
Support Center
Windows 2000
Windows Me
Windows Server 2003
Windows Vista
Windows XP



News Centers
Windows/Microsoft
DVD
Apple/Mac
Xbox
News Search



ActiveXBox
Xbox News
Box Shots
Inside The Xbox
Released Titles
Announced Titles
Screenshots/Videos
History Of The Xbox
Links
Forum
FAQ



Windows XP
Introduction
System Requirements
Home Features
Pro Features
Upgrade Checklists
History
FAQ
Links
TopTechTips



FAQ's
Windows Vista
Windows 98/98 SE
Windows 2000
Windows Me
Windows Server 2002
Windows "Whistler" XP
Windows CE
Internet Explorer 6
Internet Explorer 5
Xbox
Xbox 360
DirectX
DVD's



TopTechTips
Registry Tips
Windows 95/98
Windows 2000
Internet Explorer 5
Program Tips
Easter Eggs
Hardware
DVD



ActiveDVD
DVD News
DVD Forum
Glossary
Tips
Articles
Reviews
News Archive
Links
Drivers



Latest Reviews
Xbox/Games
Fallout 3

Applications
Windows Server 2008 R2
Windows 7

Hardware
iPod Touch 32GB



Latest Interviews
Steve Ballmer
Jim Allchin



Site News/Info
About This Site
Affiliates
Contact Us
Default Home Page
Link To Us
Links

News Archive
Site Search
Awards



Credits
©1997-2012, Active Network, Inc. All Rights Reserved.
Please click here for full terms of use and restrictions or read our Light Tower Privacy Statement.




Introduction
MSN has been releasing a lot of premium services lately; and the trend continues with the recent debut of MSN Radio Plus. MSN Radio Plus aims to be the ultimate Internet radio station by providing near-CD quality ad free music and more for just a small monthly fee. Is the service worth the cost? Read on to find out.
High fidelity audio (near CD-quality sound)

No ads

Over 200 extra stations—discover new music every day!

Live MLB games. Listen to over 2,400 games with MLB.com Gameday Audio†

Mood based stations

Music for working, thinking, dancing, working out, etc.

Artist based stations

Customer support in 6 hours or less

Remote access from any PC
Signup & Setup
Signing up for the service is quite easy and you can sign up in a variety of ways. First, you can sign up for the free service to test it out. The free service has a few available stations, only supports AM quality radio, has ads, etc. but will let you have a taste of what the full Radio Plus might offer. Second, you can sign up for the MSN Radio Plus full service to receive and receive a free month trial to see if you like the service. If you don't, cancel within the month and you will not get charged. No additional software is required for MSN Radio Plus, except Internet Explorer 5, Windows Media Player, and Windows 98 or higher. The service is not available for the Mac at this time.
Features
To start, go to the MSN Music website and "Sign-In" to your Passport. Choose a radio station from the drop down box, and the radio player window will load (see below). You should see a brief "loading" window and the full player will then show up. Note, if you do not have the latest version of Windows Media Player a prompt will appear asking if you'd like to download the latest version. You don't have to download, though.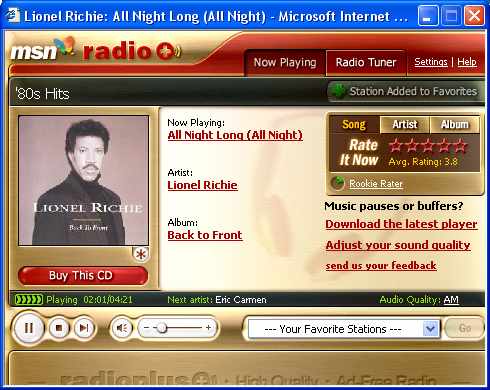 The window consists of the album cover or visualizations on the left with the radio station title up top. Unfortunately, there is only one visualization currently available. Underneath the album is an option to buy the album from Amazon or Buy.com. To the right of the album window are the album, artist and song. If you peruse one of these links, a window will open in IE with biography, album info, sample clips, soundlike albums, reviews, etc. and much more depending on what option you chose. The option is not available to hear the song by request from these pages; just the option to add it to your favorites or hear a sample.
To the right of these links you have options to rate the album, song, and artist on a star system (Love It, Like It, OK, Don't Like It, Hate It). Underneath the stars is the average rating for the item you have selected plus your rating, which, by default is "rookie rater." On the lower half of the screen you have options to pause, stop, or skip to the next song. And although you cannot repeat or play a past song, the fact you can skip songs is one of the best features of this service, as you do not have to be patient to hear a song you like! On the same panel you can also adjust your volume plus choose a station from the "favorites" drop down list. To browse the full list of stations you must click on the "Radio Tuner" button on the top. Many different station varieties exist for plus users, some of which I listed below. If you do not know the genre you would like to listen to, you can choose music by "mood." (also listed below) There are over 200 stations available for you to listen to!
In addition, you have a status bar stating "transitioning, buffering, or playing", time elapsed/total time, next artist, and quality level (AM, FM, near CD). The sound quality is excellent for an online radio station. Occasionally, when you are running resource intensive applications like AutoCAD, the radio will skip a bit, but not much. Near cd quality sound option worked well on my broadband Internet connection. I feel the options and song choices are better than those offered on digital cable television services. To change the quality of the music stream, you click the "Settings" link in the top right hand of the window and choose "disable." (See Below)
One interesting thing of note is I enjoyed the radio station so much, is that after 5 hours I received a message saying "You have reached the end of the station." MSN informed me that there are several play lists generated for each station that are updated with new music so depending on how much you listen, you may never hear the same play list twice. In other words, at this point all you need to do is reset the station and you will hear a different set of music.
Music Moods, Categories
Day Music...
Cool and Eclectic
For the Workplace
Holiday
Let's Drink!
Let's Eat!
Let's Make Love!
Music for Driving
New Music Channel
Sexy Celeb Stations
Stations by Decade
Today's Hit Stations
Workout Stations
By Genre
Alternative - 9 Radio Plus and 2 Standard Stations
Metal - 7 Radio Plus and 1 Standard Stations
Blues - 2 Radio Plus and 1 Standard Stations
New Age - 6 Radio Plus and 1 Standard Stations
Christian - 3 Radio Plus and 1 Standard Stations
Oldies - 6 Radio Plus and 1 Standard Stations
Classical - 14 Radio Plus and 2 Standard Stations
Pop - 12 Radio Plus and 8 Standard Stations
Country - 13 Radio Plus and 1 Standard Stations
Punk - 6 Radio Plus and 1 Standard Stations
Dance - 5 Radio Plus and 2 Standard Stations
R&B/Soul - 12 Radio Plus and 2 Standard Stations
Electronica - 10 Radio Plus and 1 Standard Stations
Reggae - 5 Radio Plus and 1 Standard Stations
Folk - 5 Radio Plus and 1 Standard Stations
Rock - 19 Radio Plus and 5 Standard Station
Hip-Hop/Rap - 7 Radio Plus and 1 Standard Stations
Roots - 7 Radio Plus and 1 Standard Stations
Indie Rock - 4 Radio Plus and 1 Standard Stations
Soundtracks - 8 Radio Plus and 0 Standard Stations
Jazz - 12 Radio Plus and 2 Standard Stations
Trad. Pop - 6 Radio Plus and 0 Standard Stations
Latin - 8 Radio Plus and 1 Standard Stations
World - 21 Radio Plus and 1 Standard Stations
Lounge - 4 Radio Plus and 0 Standard Stations
Final Comments
How It Grades
Ease Of Use: 92%
Features: 90%
Sound: 93%
Interface: 90%
Overall: 91.25%
Overall, MSN Radio Plus is a good buy for $29.99 a year ($2.50/month) for those of us who spend a lot of time on the computer and are looking for another form of entertainment. I played the station in the background and had no trouble whatsoever. The beauty of this system is no extra software is needed and you can access the player at home, work, etc. via your Passport. The quality is decent and I feel you are getting more for your money than if you were to choose a similar service from Real Audio. The ever changing playlists combined with the over 200+ stations you can choose from will constantly provide listening pleasure to your ears!
Specs & Package
Overall Score
91.25%
Version Reviewed
MSN Radio Plus
Release Date
Out Now
In The Box?
Online
The Good Points
Variety
Sound Quality
The Bad Points
Songs on Demand
Repeat
Reviewers PC Setup
AMD Athlon XP 2100
Asus A7V333 Motherboard
1GB DDR PC2100
Sapphire ATI Radeon 9600XT
Creative Labs Audigy Sound Card (OEM)
100 GB Western Digital Hard Drive 7200 RPM, 8mb Cache
Samsung 16x DVD-ROM
Samsung CD-RW (40x12x48x)
Creative Inspire 5.1 5300 Speakers
PC Required

A U.S. credit card with a U.S. billing address

A PC (We apologize, but there is no Radio Plus for the Mac at this time.)

Internet Explorer 5.0 or higher

Windows 98 or higher

Valid Passport account ending in either @hotmail.com or @msn.com