DirectX
ActiveMac
Downloads
Forums
Interviews
News
MS Games & Hardware
Reviews
Support Center
Windows 2000
Windows Me
Windows Server 2003
Windows Vista
Windows XP



News Centers
Windows/Microsoft
DVD
Apple/Mac
Xbox
News Search



ActiveXBox
Xbox News
Box Shots
Inside The Xbox
Released Titles
Announced Titles
Screenshots/Videos
History Of The Xbox
Links
Forum
FAQ



Windows XP
Introduction
System Requirements
Home Features
Pro Features
Upgrade Checklists
History
FAQ
Links
TopTechTips



FAQ's
Windows Vista
Windows 98/98 SE
Windows 2000
Windows Me
Windows Server 2002
Windows "Whistler" XP
Windows CE
Internet Explorer 6
Internet Explorer 5
Xbox
Xbox 360
DirectX
DVD's



TopTechTips
Registry Tips
Windows 95/98
Windows 2000
Internet Explorer 5
Program Tips
Easter Eggs
Hardware
DVD



ActiveDVD
DVD News
DVD Forum
Glossary
Tips
Articles
Reviews
News Archive
Links
Drivers



Latest Reviews
Xbox/Games
Fallout 3

Applications
Windows Server 2008 R2
Windows 7

Hardware
iPod Touch 32GB



Latest Interviews
Steve Ballmer
Jim Allchin



Site News/Info
About This Site
Affiliates
Contact Us
Default Home Page
Link To Us
Links

News Archive
Site Search
Awards



Credits
©1997-2012, Active Network, Inc. All Rights Reserved.
Please click here for full terms of use and restrictions or read our Light Tower Privacy Statement.



Product: Home Publishing Suite 2000
Company: Microsoft
Website: http://www.microsoft.com
Estimated Street Price: $54.95
Review By: Julien Jay
Introduction
Each year, the software giant, Microsoft, releases new software. The last one we've tested is Microsoft Home Publishing Suite 2000. Behind this long name there's a powerful consumer tool to create home publishing projects. Unlike Microsoft Publisher 2000, which is designed for small businesses, Home Publishing Suite 2000 is for home and family users. With it you'll be able to create great and professional looking greeting cards, personal Web pages, animated email messages, calendars, signs, banners, party sets and much more. Home Publishing 2000 comes with photos, music, animated pictures and sounds to activate and animate your documents. As it comes with Microsoft Picture It 2000 editing pictures will be a child's game for any users!
Setup
Microsoft Home Publishing Suite 2000 fits on only five CDs: one setup CD, one CD for Picture It and three CDs that contain art, designs, etc. When inserting the first CD, the setup of Microsoft Home Publishing Suite 2000 begins. It's a Windows Installer based setup program (similar to Office 2000) so the setup is easy, smart and almost fast. The setup will offer to make a typical install or a minimum one. You cannot choose which components you whish to install, however. Typical setup will take up to 308 MB of hard disk space and the minimum setup requires 150MB of free hard disk space. Once the setup is finished you can change the CD for the third CD in the aim to install Microsoft Picture-It 2000, which is also based on the Windows Installer Technology. Once this is done you may restart or not your computer. That's it, now you're ready to use the best of print publishing projects!
Double-click on the MSHP desktop icon and Microsoft Home Publishing 2000 will start smoothly. You arrive to a tab interface that offers you a wide variety of printed-paper projects, web projects, special occasion and activities projects. If you don't know what to do click the Creative Ideas tab. While the sun is shining a little dog (the one of Office 2000) will appear on an introducing MSHP page that'll guide you steps by steps to start creating high impact documents. We'll review below each kind of projects you'll be able to create.
Paper Projects
As Microsoft Home Publishing Suite 2000 comes with more than 100,000 high quality graphics, plus 10,000 project ideas, including 4,000 templates from Hallmark Connections, everything you need to create or publish is in it and you'll be able to express the right feeling or sentiment! For example we'll create a calendar. Let's click "paper projects and calendars." MSHP will ask me to insert the second CD of Microsoft HP Suite 2000 (this is very painful because with 5 CDs you have to switch between them! We really hope that MS will release a DVD edition!). Then MSHP will search for designs on the CD and display the list of available designs. But the more interesting point is that you can select different themes (more than 15 for this kind of templates) to change designs. A 'More on the Web' button allow you to retrieves new templates from the home publishing website of Microsoft. A preview button allows you to take a quick closer look to the template you may choose (you can also select an empty template). Once the design is chose, select it and click OK. The serious things have begun! Microsoft Home Publishing 2000 will display a "work" interface with the calendar that was automatically completed according to the year/month you've selected. A blue left bar will appear and contains all the tools or features related to the template you're working on. Now you can change page, backgrounds, add texts, pictures (thanks to the Microsoft ClipArt Gallery applet), shapes (that you can draw), and objects from other software (thanks to OLE!). To add pictures from the ClipArt Gallery you'll have to replace the CD Number 2 by the CD number 1, not very useful. Text formatting tools are complete, you can change font, alignment, line spacing, apply shadow or outline effects, change colors, add borders, duplicate text objects, and much, much, more!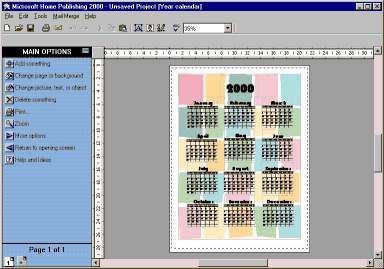 With integrated pictures effects, MSHP 2000 allows you to add special effects to backgrounds or pictures with just a mouse click and without being a professional graphic artist! Also, you can rotate any objects of the page even texts. Multiple undo features is useful to cancel unwanted modifications. Spell Checker tool is also here to ensure you didn't make mistakes in your doc. A "send to" button will allow you to send your projects by email to friends or family and a "publish to the web feature" will allow you to publish your creations on your own website. Sure your projects can contain many pages, and you can zoom your page, bring to front/back objects but you cannot make a print preview before printing your document. MS HP 2k also includes projects to create CD labels, CD Jewel papers, floppies labels, kids' bracelets, in a few mouse clicks!
Web Projects
One of the major new features of Microsoft Home Publishing Suite 2000 is to allow user to create "Best of the web publishing". With pre-designed templates and step-by-step instructions you'll be able to create your own personal web page. To start a web project, click the email & web projects tab then click web pages and choose the right design that'll fit your needs. The GUI of Home Publishing Suite is the same for editing paper projects and web pages. So the features are almost the same. Except that this time you can preview your web page simply by clicking the eye button in a separate window or in Microsoft Internet Explorer… And you can rotate pictures but the texts cannot be rotate anymore… You can add pictures, sounds, animated Gifs, animated navigation bars that you can tweak, and even shapes… Obviously you can add hyperlinks even if the feature is a little bit hidden in the 'more options' button-menu. The WYSIWYG integrated feature allows users to see animation, photos and hear sounds that will appear in the final HTML file directly from MSHP.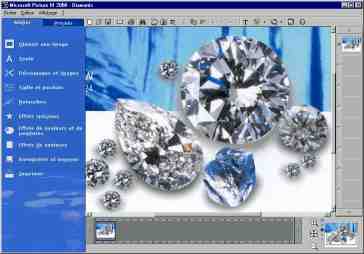 A great new feature is the ability to add transitional, text and graphic effects. Right click on a picture, select 'change effects or sounds' and here you'll add impact to your homepage by adding dramatic transition effects such as scene wipes, fades and split screens. These effects can be customized: you can change the speed, the direction, the action when it should appear. Users can even use the running waterfalls or move your graphics across the screen to impressed your readers! These transition effects are possible due to the DHTML technology (the same that Microsoft Vizact 2000 uses to activate your documents). As MSHP Suite 2k includes integration with all popular e-mail clients and personal Web page services (Yahoo, Geocities, Tripod) it'll make sending and posting on-line creations easy and fast. However you should be aware that with Home Publishing 2000 you wouldn't be able to create high end web sites like the ones you can create with Microsoft FrontPage 2000. Also you can't edit the HTML source code directly from the software. We regret that all the web pages produced by MS HP 2k have grey margins that aren't very beautiful. And finally, the web pages you create require Microsoft Internet Explorer 4.01 or greater to be viewed correctly with the DHTML special effects.

Photo Editing Software

As we wrote above, MS Home Publishing Suite 2000 comes with Microsoft Picture-It 2000, the award-winning photo-editing software to help users include their personal photos in all kind of exciting projects. With it you can adjust all your photos at once, fix red-eye (as always!) and much more in a real beautiful interface that contains at least a real toolbar. Opening pictures is easy as Picture It contains a picture browser explorer. Picture-It 2000 includes major new features such as the Mini-Lab that allow users to enhance, crop, rotate, size and adjust the contrast and tint on an entire roll of film all at once. Microsoft Picture It 2000 includes Digital cameras and scanners support to easily import pictures into Picture It.

Special effects are also included in Picture It 2000: users can personalize photos with great 3d texts, photo and paint strokes. Illusions will turn users photos into an oil painting. New image features: crop, flip, rotate, regular or irregular resize photos. Like in MSHP 2000, Picture It 2000 includes built in drawing tools to add shapes, lines, frames with gradient and much more… You can add other great-looking artistic effects. Microsoft, thought to those of you who have heads in the clouds, with the Photo archive feature that allows you to find and store your personal pictures where you want easily. It supports AutoCad, CGM, CDX, GIF, JPEG, PCD, PICT, MGF, BMP, TIF, and much more pictures file formats. But to edit photos this software is a little bit limited due to its selection tools that aren't really appropriate to touch-up your favorite pictures. Finally Picture It 2000 also contains projects but to use them you have to insert the appropriate CD. All the 10,000 templates included in MSHP 200 are great and will fit almost every need, but really, some of them look too childish even if they're not dedicated to kid usage.

Microsoft Home Publishing Suite 2000 also comes with the Microsoft Works Calendar. This add-on is a great diary where you can easily set reminders and enter each event or appointments you've got in the journey, week or month.

Final Comments
How It Grades
Setup: 89%
Manual: 78%
Features: 83%
Cost: 97%
Ease of Use: 95%
Templates: 82%
Photo Editor: 87%
HTML Layout: 90%
Overall: 88%
The general user interface of Microsoft Home Publishing 2000 is nice even if you can't customize it and even if it looks a little bit gloomy. However Microsoft Home Publishing Suite 2000 is the perfect solution for home and family users that want to print, create, edit great looking projects with pictures of their own (this product is not dedicated to businesses). As it comes with Microsoft Picture-It 2000 and as it includes the templates of Microsoft Greetings 2000 it's definitely a good buy.

With more than 100,000 high quality graphics, 10,000 projects, advanced web & email features, and leading photo editor, Microsoft Home Publishing Suite 2000 is the ultimate home-publishing software for home users.
Specs & Package
Overall Score
88%
Version Reviewed
Home Publishing Suite 2000
Release Date
Out Now
In The Box?
5 CDs
1 Manual

The Good Points
Good Photo Editor
Great Price

The Bad Points
Poor Templates
Inadequate Manual
Similar To
N/A
Reviewers PC Setup
Pentium II 450
Windows 98 Second Edition
256 MB SD-Ram
Matrox G400 32MB AGP Graphics Card
DirectX 7a
SoundBlaster Live! Value
17" LG Electronics Monitor
PC Required
Windows 95/98 NT/2000
Pentium 166 or Higher
32 MB Ram
150 - 350 MB of Hard Drive Space