Product: Iomega USB Zip 100
Company: Iomega
Website: http://www.iomega.com
Estimated Street Price: £100/$149.95
Review By: Byron Hinson
The Features
USB (Universal Serial Bus - Those small sockets appearing on all PC's now at the back of your PC) has recently been getting a great deal of new products specifically designed to make use of these easy to use interfaces.
Using USB makes it so much easier to add new hardware to your computer, without needing to fiddle with any settings such as IRQ's etc, USB devices can also be swappable, meaning you can connect/disconnect your USB devices without having to shut down your computer at any time allowing you to remove your hardware on the run.
Compatible with the Apple iMac & USB-Enabled PC's Running Windows 98
Exceptionally easy to install and use
External Zip USB drive connects quickly and conveniently via a USB port
Hot plug-n-play capability (Hot swappable)
800 kb/sec sustained transfer rate, 1.0 Mbit/sec burst transfer rate
Zip USB drives are compatible with over 100 million 100MB Zip disks
Zip Drives add unlimited storage-capacity to users computers through genuine 100MB zip disks
100MB Zip disks offers the same storage capacity as 70 floppy disks
Includes IomegaWare utilities, including 1-step Backup, RecordIt, FindIt and CopyMachine software
Enables users to save, back up, organize and transport all of their important information
Zip disks are compatible with more than 20 million Zip drives shipped
100,000 hour MTBF (Mean time between failure) rating
10 year shelf live, 5 year service life
Performance:
Average Seek Time: 29 Milliseconds
Sustained Transfer Rate: up to 800KB/sec
Burst Transfer Rate: up to 1.0MB/sec
Typical Throughput: up to 60 MB/min
Average Start/Stop Time: 58 seconds
Long Format Time: 8-10 minutes
Short Format Time: 10 seconds
Buffer Size: 16Kbyte
Installation, Settings & Software
USB hardware is really easy to install. With the USB Zip 100 the first thing you need to do before plugging the drive into the USB port is to install the IomegaWare software. The IomegaWare software includes the drivers that will be needed once you plug it into the USB port. Finally you plug the drive into the USB port - Windows 98 detects what it is straight away, selects the drivers and you are ready to go, you don't even need to reboot, that is what real Plug & Play is.
Once setup is complete, there is little else that you need to do. The drive is already setup for you in Windows and appears as a removable disk drive and also automatically gets its own drive letter assigned to it.
The IomegaWare software that is available to you once you have installed the drive is as follows:
1-Step Backup/Restore – backs up files from your hard drive to Zip disks.
RecordIt – allows you to record audio to a Zip disk and take those recordings anywhere. The Audio Mic In feature allows you to record from a microphone.
Copy Machine – allows you to make a copy of a Zip disk using a single Zip drive.
Iomega Tools – a collection of disk and drive management utilities, including format, disk protection, and drive startup options.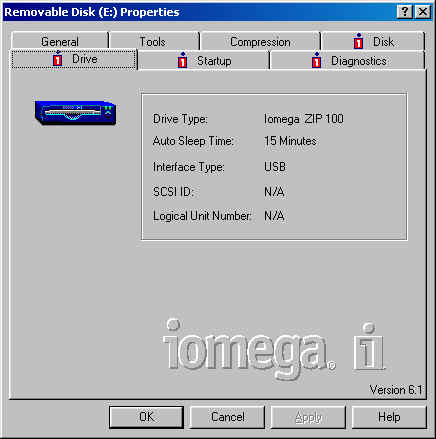 Manual
Iomega has managed to put together a really good manual for use with the USB Zip 100. It includes Quick Install information with illustrations of installation process. The USB drive User's guide also provides details on how to fully make the most of Zip package and how to troubleshoot the most basic problems you may/may not come up against.
Performance
I have decided on three tests to run on the USB Zip 100 drive, they are as follows.
Test 1 – Time taken to copy 475 files totaling 40MB
| | | |
| --- | --- | --- |
| Drive Types | Time (s) | Throughput (MB/s) |
| HD1 to HD1 | 0:25 | 96 |
| HD1 to USB Zip | 0:20 | 120 |
| USB Zip to HD1 | 1:15 | 32 |
Test 2 – Time taken to copy 25 files totaling 100MB
| | | |
| --- | --- | --- |
| Drive Types | Time (s) | Throughput (MB/s) |
| HD1 to HD1 | 0:41 | 148 |
| HD1 to USB Zip | 2:21 | 41 |
| USB Zip to HD1 | 2:26 | 39 |
Test 3 – Time taken to copy one 60MB file
| | | |
| --- | --- | --- |
| Drive Types | Time (s) | Throughput (MB/s) |
| HD1 to HD1 | 0:32 | 112 |
| HD1 to USB Zip | 1:48 | 33 |
| USB Zip to HD1 | 1:29 | 40 |
Test number one shows that, in some cases, writing files to the USB Zip drive can be just as fast as copying files on a hard drive! Tests number two and three show that the there is a gradual performance loss as the file sizes increases.
Final Comments
How It Grades
Installation: A+
Manual: B
Performance: A-
Look: C
Help Files: B+
Overall: B+
I always wanted to own a Zip drive but never really got round to jumping in until this review hardware arrived, I would now without hesitation recommend that you get one. USB is so easy to use that it makes installing this kind of hardware a breeze for even the most novice of users, allowing you to get backing up your system/work files straight away.
I guess that the only problem is that a 100 MB Zip Drive doesn't offer a great deal of space to work with like a CD re-writer does, I would really like to see a USB version of the Zip 250 on the market, but overall I heartily recommend the USB Zip 100 for easy hassle free backups.
Overall Score
89%
Version Reviewed
Version 1.0 US
Release Date
Out Now
In The Box?
1 Installation CD
1 Set of instructions
1 USB Sheet
1 USB Zip 100 Drive
1 Power Pack
1 USB-PC Cable
The Good Points
Easiest Hardware Installation Ever
Faster Than Any Other Current Parallel Zip Drive
The Bad Points
No USB Zip 250 Version
Zip Disks Can Be Expensive
Reviewers PC Setup
Pentium II 450
Windows 98 Second Edition
128 Meg SD-Ram
Voodoo 2 - 8mb
DirectX 6.1a
SoundBlaster Live! Value
17" LG Electronics Monitor
Matrox G400 32MB AGP Graphics Card
Microsoft Force Feedback Pro
Microsoft Freestyle Pro (USB)
Microsoft Digital Sound System 80 (USB)

DVD Setup: Toshiba SD-1202 DVD-ROM - 32x
DVD TV Player - Samsung 807

PC Required
Windows 98 Or Higher
Intel Pentium 100 PC (or 100% compatible CPU)
CD/DVD-ROM Drive
Integrated USB 1.0 Controller or USB 1.0 Controller Card
30MB Hard-Drive Space