DirectX
ActiveMac
Downloads
Forums
Interviews
News
MS Games & Hardware
Reviews
Support Center
Windows 2000
Windows Me
Windows Server 2003
Windows Vista
Windows XP



News Centers
Windows/Microsoft
DVD
Apple/Mac
Xbox
News Search



ActiveXBox
Xbox News
Box Shots
Inside The Xbox
Released Titles
Announced Titles
Screenshots/Videos
History Of The Xbox
Links
Forum
FAQ



Windows XP
Introduction
System Requirements
Home Features
Pro Features
Upgrade Checklists
History
FAQ
Links
TopTechTips



FAQ's
Windows Vista
Windows 98/98 SE
Windows 2000
Windows Me
Windows Server 2002
Windows "Whistler" XP
Windows CE
Internet Explorer 6
Internet Explorer 5
Xbox
Xbox 360
DirectX
DVD's



TopTechTips
Registry Tips
Windows 95/98
Windows 2000
Internet Explorer 5
Program Tips
Easter Eggs
Hardware
DVD



ActiveDVD
DVD News
DVD Forum
Glossary
Tips
Articles
Reviews
News Archive
Links
Drivers



Latest Reviews
Xbox/Games
Fallout 3

Applications
Windows Server 2008 R2
Windows 7

Hardware
iPod Touch 32GB



Latest Interviews
Steve Ballmer
Jim Allchin



Site News/Info
About This Site
Affiliates
Contact Us
Default Home Page
Link To Us
Links

News Archive
Site Search
Awards



Credits
©1997-2012, Active Network, Inc. All Rights Reserved.
Please click here for full terms of use and restrictions or read our Light Tower Privacy Statement.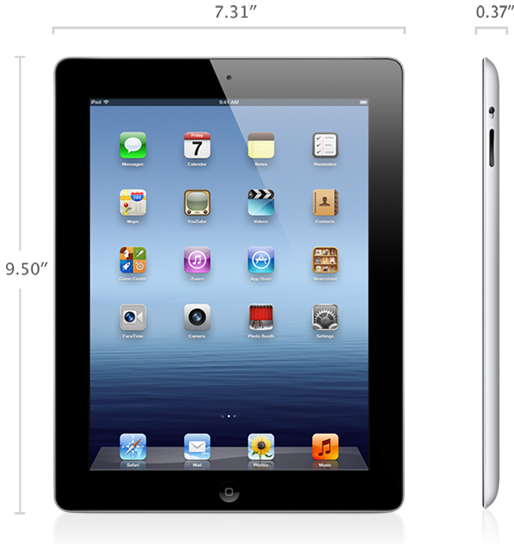 Product: iPad 3rd Generation
Company: Apple
Website: http://www.apple.com
MSRP: Wi-Fi Only ($499/16 GB, $599/32 GB, $699/64 GB)
Wi-Fi + 4G ($629/16 GB, $729/32 GB, $829/64 GB)
Review By: John Quigley
Appleís newest iPad has been released to the general public. About half of the rumors are true, and the other half really donít matter. I ordered on via Appleís website during the announcement it only took 1 hour to get to the payment page, 10 minutes to fill the form out, then 4+ hours to check out. I selected an iPad 3rd Generation 64gb with 4G on ATT network. It will replace my current iPad 2, 64gb 3G that I used heavily. I used it to support clients remotely, to read and update documentation, keep up on with the latest news from Tech websites like Activewin.com to Drudgereport. I hooked up 6 Exchanged based e-mail accounts, and 4 IMAP accounts. I was able to mange the majority of what I needed a laptop for with an iPad 2 it was a little slow some times.
Good news is the wipe function on the devices is really fast; taking less than 30 seconds, where on the iPad 2 could take hours. That being said I ran into sync issues setting things up. It would only sync 16 songs, all the application (138 in total), some videos, all books and a few of the 488 selected pictures. This was a pain. I wiped out the unit and tried a restore it did nothing when restoring from a backup of my old iPad 2 taken 3 days earlier. After 6 tries, using both MAC and PC, I switch to a new PC, setup a new copy of ITUNES and imported all my media, 3 syncs later, everything was on there including the majority of photos. I worked on getting the rest of the photos on to the iPad, and enabled wireless sync. The only issue I have now is when it syncs it may overwrite newly downloaded applications, items and layout. It ignores any changes that I have created on the iPad. Apple support claims that itís a problem with my ITunes library, which doesnít hold water if it has issues in three different machines. I did pre-configure a profile using the IPHONE configuration tool, placing all my Exchange, Email, WAP and other information into a single file for easy and quick loading. It worked like a charm, but required 2 loads to get all the Exchange accounts to load. This issue is minor, and not worth troubleshooting, just a few button clicks and its done.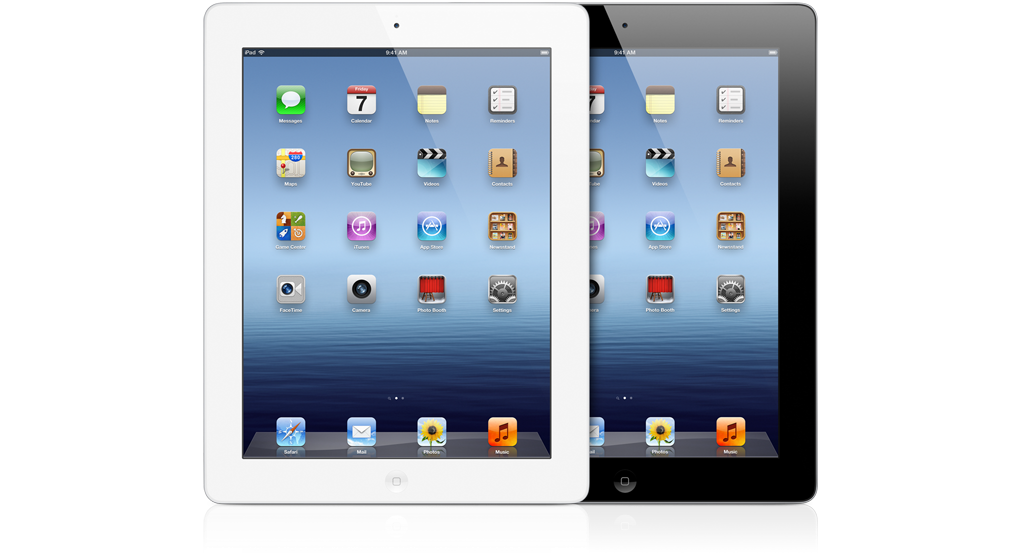 New Features
New feature that has been added is the dictate feature. This is a new little microphone button on the keyboard left of the space bar. In testing of the new feature, it was a hit and miss, and never the way you would think. I used it first on Sunday morning in church, while my Bill K was preaching I hit the button, captured 30 seconds, and then hit the button again and it was very accurate. I then repeated it; it ran for 3 minutes and it worked very well. I was surprised, thinking this was a winner I then attempted to do this review on it, using a JawBone Headset and not one word was correct. I changed to a Plantronics P590 Bluetooth headset only two words were correct out of dozens. I then used the built in mic and again only a few of the words were correct. I know that the sound level at church was loud, (almost 70db), so talking louder works best with the device. The input is available for many programs, I used OneNote and also the built in Email New mail application for creating. Turns out that Dragon Dictation app is available and is free for iPad users to use for dictation on the units.

The battery, which changed from 25 watt hour to 42.5 watt hour. This change allows the iPad 3rd generation to keep the almost 10 hour battery life, and added with some of the other items the weight increased by 52 grams over all. Some people have complained that this increase was too much, going from around 600 grams to 652 grams. Personal I think they need to get over it, it is a minor issue, and the additional weight is worth the trade for the size of the battery. I have discovered issues with the battery and tried to trace them down. It turns out that I am not the only one currently see these issues. If the Battery reads 100% it really doesnít mean 100% it means Almost, give it another hour and it should/could be. Apple is saying that there may be a software fix to address this. Another thing that I have found that different from the iPad 3rd generation over the iPad 2 is the ability to charge it while plugged into a computer. The iPad 2 required a 10w USB connection and could trickle charge, where I have found my iPad 3rd generation will charge fine plugged into my laptop or desktop without any issues. Many times boosting the battery by 35% in under an hour.
Processor
The new processor is an A5X, still a dual core, but faster then the previous A5. One difference this time is that they added is quad core graphics, which is used by the screen. Several other tech websites have benchmarked the new A5X and overall it is almost as fast as the iPad v2, and yet in real world testing, it not only preforms faster but the applications run better. I question some of the benchmarks that other sites have published, showing it is slower then the major competitors. I have not found this to be true, and honestly put more stock in real world test over benchmarks. I asked a few friends to load the same apps on iPad 2 and then try them on the new iPad 3rd generation and they all agreed that the iPad 3rd generation is faster and better overall, and the apps were snapper. Several of the people were not expertsí just casual users.
Operating System
Apple has updated the IOS to v5.1. They have made vast improvements over previous releases and added many new features. Integration of iCloud services (backup and synch of user data), better location of lost devices (find my device) along with several system improvements that make the system run better. I noticed that IOS v5 was good on my iPad 2, but there were many little things that were a pain that were occurring, IOS v5.1 fixed those. I am assuming that those are clear on the iPad 3rd generation also since it ships with the IOS v5.1. Over the air updates is a nice feature, and very handy where the unit doesnít need to be connect to a computer; just the Internet to get the updates installed. This goes the same for the wireless sync feature for iTunes, as long as the device can be connected via the same wireless you donít need to use the synch cable. I found that most of the time it worked, with errors once in a while. The messaging center has been upgraded from IOS 4.x and before. It still needs some work, but is much better them what it was in the past. Changes to the Maps, adding Alternate routs and traffic is a bonus if you use the device in place of a GPS. There is also the Game Center, which honestly I have not played with. My wife has played some games, and so have some friends, but I not taken the time. AirPlay is another feature that becomes affordable can be very usable and enhance the overall experience with the device. Most devices that support AirPlay normally cost more, by about $47, so the adoption is slow.
There are hundreds of updates that have been made that improve the overall system, and I could attempt to list them out, but why re-invent the wheel. You can find a good list of the changes between the versions at IOS Versions.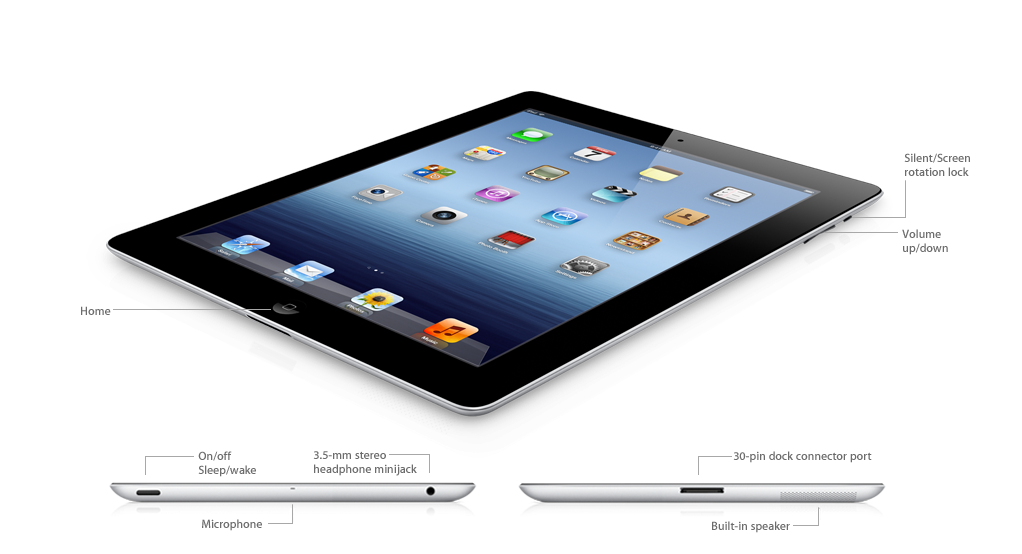 Camera
The improvements to the camera system were longer over due. The new system has auto focus and tap to focus with face detection in still images. The 5-megapixel rear-facing camera with the 5 element lenses including IR filter and f/2.4f aperture are a nice upgrade. Many wanted the 8+ megapixel, but honestly there would have been some issues with the camera assembly and restriction on the lens and aperture configuration that would have made many complain that it was not what they were expecting. I tested the camera out using it as a copier for some documents and was extremely happy with the quality of the images, which were much clearer and not as grainy as the iPad 2 pictures. The iPad was also able to handle index cards better than itís predicators with out really granny and low quality pictures. I have been shooting a ton of pictures with the new iPad, and everyone loves the pics, they are sharp and clean. Shutter control is the only thing that I could ask for, but not going to hold my breath. Zoom function is nice and works well for a digital zoom, along with Face detection.
Screen
Lets hit the big one first, the screen, Yes it is beautiful, sharp and crisp, bring additional quality to everything being viewed on it. Photos looks great they stand out high-resolution pictures are very clear with the details stand out. Videos encoded at 1080p look great and clear and enjoyable on the iPad 3rd generation. Many videos were not usable on previous devices. Even lower quality videos look better on the newer iPad over the iPad 2. The screen and icons stand out, along with the background look great. This was a good step forward.
Networking
Network connections, everyone was pushing for LTE/4g, well they gave it to us, even though there is no full standard for 4G, (LTE and 4G is slightly different, and on the ATT model you can turn off and on the LTE function but still use the 4G. My experience so far is that LTE/4G may be available in Cincinnati, Ohio area, but it is not worth using. With LTE enable, I have gotten speeds around 4-5 mbits down and around 1mbits up. These results were very disappointing. I talked to ATT about this, and was told that it all dependent upon network traffic and location, yet I repeated the test at over 12 locations and with LTE enabled and disabled, the results were all the same, the times of the day were different, from 6am until 11pm, no real change. I did notice that when changing over from one network type to another required me to surf the Internet and load a few pages otherwise the speed test program failed. This is an improvement over the iPad 2, which on several occasions required a shutdown of one of the services first, then enabling of the new service. I have noticed and been able to replicate an issue related 802.11N (5 ghz), which is now supported, doesnít always work correctly, connections fail, and many times the connection speed is slower than the non-5G connection. I have also noticed some strange issues. My new iPad is using about 110 megs of data a day, even if I am using Wifi. I turned my cellular networking, and it did not use any, but if I turned it back on, and let the iPad sit and not. There is also a issue with some application actual working with LTE.
4G/LTE Tech Specs from Apple:
4G for AT&T model: 4G LTE (700, 2100 MHz)3; UMTS/HSPA/HSPA+/DC-HSDPA (850, 900, 1900, 2100 MHz); GSM/EDGE (850, 900, 1800, 1900 MHz)

4G for Verizon model: 4G LTE (700 MHz)3; CDMA EV-DO Rev. A (800, 1900 MHz); UMTS/HSPA/HSPA+/DC-HSDPA (850, 900, 1900, 2100 MHz); GSM/EDGE (850, 900, 1800, 1900 MHz)
Applications
Since my last review, the applications have gotten better. Many applications have gotten better, fully supporting iPad screen natively, in a single app built for both the iPad and IPHONE platforms.Companies like Microsoft finally brought out an OneNote client for iPad, and it is a step forward. They still need some work on the app to bring it to where it needs to be for a tablet application. Other applications that I use Teamveiwer, LogMeIn, Blackboard for College, NetFlix, iTunes University,iBooks, IMO.IM, DropBox, Dragon Dictation, and several PMP apps, MobileRSS and EC Council apps. Maturity in the app market has definitely come, with room to grow. Microsoft Office for the iPad is still something that is highly desired and wanted, by many including me. I still have not spent anything on any apps, I am getting close to purchasing one, but not there yet. A minor issue is the App updates, sometimes there are 2-5 a day every day, and sometimes twice a day. I thought it was bad in the early days with MS updates, but it seams every time I look there are updates to install.
I have assisted several other people in migrating over to iPad. This new model with all the additional features improves what the iPad can offer. It is not a real laptop replacement yet but is more then a netbook killer.
Final Comments
How It Grades
Ease of Use: 92%
Performance: 95%
Design: 87%
Price/Value: 95%
Overall: 92.25%
Apple has done a fine job with the iPad 3rd generation; it is a major upgrade from the iPad 1, and a middle of the road upgrade from the iPad 2. The stability of the IOS is still there, aside from the occasional app crash and Apple bashing article on how IOS is not as functional as Android. Android still has its issues and so does Windows tablets currently suffer from the various vendors of the components, many whom donít really spend the time to properly test and verify functionality.
I enjoyed using my iPad 2, and the replacement iPad 3rd generation is much better. It still has some minor issues, but overall it does what I need and does it well, and can do it for a lot of people.
Differential Points-
Still the lack of flash is there, but as of now it is not really an iPad issue, where it is more an issue with the websites that have not decided to move into the future and support mobile devices. Several studies have pointed out that more than 35% of traffic comes from mobile devices, yet many websites donít properly do anything to support them. Adobe is pushing new ways to support iPads through various new web tools to generate HTML 5 and CSS 3 code, and limit the need for flash for animation.
Jailbreaks by the various groups that to allow us to install other applications that are not Ďauthorizedí by Apple is welcome relief. There are plenty of Jailbroken apps that adds functionality and features that are not normally allowed.
Negative Points-
The browser: Again it is still Safari, it STILL SUCKS, most websites still treat it as a small form factor mobile and will not render correctly. There are other browsers that you can install, and some of them allow you to emulateí other browsers, but they all fall very short, and still do not bring the most important piece forward. At some point someone needs to get a real browser app either through a jailbreak or some other way.
There is still the issue with closing the applications is not really closing them, it sends them to Ďsleepí (thatís what one of the so called geniuses guys at the apple store said), personally, if I am done, let me close it.
NewStand, if I donít want it or use it, let me hide it in a folder or delete it, but oh no, APPLE says ĎNOí. I looked at decided that I did not want to pay the price that they were selling the magazines for. I could get them cheaper in print, go figure.
Specs & Package
Overall Score
92.25%
Version Reviewed
Apple iPad 3
Release Date
Out Now
The Good Points
See Conclusion
The Bad Points
See Conclusion
In The Box
iPad 3
1 USB Cord & Power Adapter
1 Set of Instructions
Similar Product
Apple iPad / iPad 2
Technical Specifications
See Specifications (Apple Site)