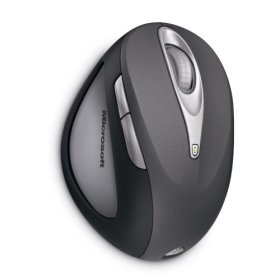 One of Microsoft's latest devices available this year is trying to be the most comfortable mouse on the market. The Natural Wireless Laser Mouse 6000 has a new ergonomic shape which is designed to allow the fingers to relax more and keep the hand in a more natural position with the hope to reduce pressure and to make for a more healthy long-term use. Microsoft combines the new design with updated software features and its High Definition laser optical technology. Will the mouse really give our hands a rest? Read on to find out:

· New! Vertical right side allows the side of the user's hand to rest comfortably on the desk.
· New! Ergonomic curvature gives the mouse a pronounced elevated surface and a rounded shape, allowing fingers to relax and curl naturally to reduce finger extension.
· New! Elevated thumb scoop on the side of the mouse keeps the user's hand in a natural position by rotating the hand into a handshake position and prevents pressure on carpal tunnel nerves.
· New! Rubber thumb scoop and sides provide a comfortable grip for extended use.
· New! Two-color battery life indicator warns users when it is time to replace batteries. Red means the batteries are running low on power, and solid green glows and then fades away when new batteries are inserted.
· New! Instant Viewer tool displays all open windows at once so users can easily switch between applications for added productivity.
· Proprietary High Definition Laser Technology puts ultimate performance in the palm of the user's hand. Microsoft's line of High Definition mice uses technology that is two generations ahead of standard optical and laser mice. These mice are equipped with the exclusive Microsoft Intelligent Tracking System for smoother tracking, 1,000 dots per inch for more responsiveness and 6,000 frames per second for better precision.
· Magnifier tool enlarges any section of the screen, enabling real-time magnified viewing and editing of images, documents, Web sites and more. Users simply push the Magnifier tool and move the cursor over any portion of the screen to enlarge it.
· Tilt Wheel delivers revolutionary four-way scrolling capabilities for smooth vertical and horizontal control and ease when navigating long Web pages or spreadsheets.
· Five buttons, including the Tilt Wheel and Magnifier, can be easily customized to perform popular commands with a single touch.
· A smart receiver improves 27MHz wireless technology and cuts down on interference. The included smart receiver and intuitive software notifies users when interference occurs from other wireless devices, such as a cordless phone, and offers ways to reduce it.
· Wireless freedom allows users to sit back and click up to 6 feet away from the receiver, even if it is out of sight. Eliminating wires on the desk also means less clutter and a more organized space.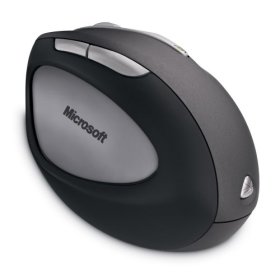 Setup & Installation
Setup: The installation is simple. You have to insert the AA batteries (included) in the mouse. Now, insert the USB transceiver into the computer and click the connect button on the mouse. Nothing has to be setup at all if you do not want to use the IntelliPoint features. To use the additional programmable buttons, you must install Microsoft IntelliPoint software (see below). The device is Windows Vista certified, but also works on Windows XP and Windows 2000. You can expect to receive 6 months of battery life from this mouse.
Microsoft IntelliPoint 6.1 Software
If you want to customize your mouse, you will have to install the new IntelliPoint 6.1 (about 45 MB), which does not require a restart. To customize your mouse keys, select either "Mouse" for the Control Panel or "Microsoft Mouse" from the program menu. On the buttons tab you can click on the different buttons and reassign the keys to a variety of functions. You must use this software to assign the performance slider and instant viewer. In this software you can also change your pointers, other pointer options, view which hardware is connected, change scrolling options, etc. The software is easy to use and is required for advanced functionality of the mouse. The instant viewer feature is pretty cool - you click the tilt wheel and all the windows you have home are brought into one easy view. The magnify tool is the right button, and is the same as previous versions. Of course, you can reprogram these as necessary. Another feature is the performance slider, where you can choose between longer battery life and greater accuracy.

Mouse Design & Use
The Microsoft Natural Wireless Laser Mouse 6000 is about 4.1 inches long, 3.2 inches wide, 2.5 inches high and weighs about 5 ounces. The mouse includes the standard five buttons for basic mouse functionality (two on top, the wheel and two sides). The mouse has a three tone silver, black and grey design with silver buttons and at first glance is very odd looking. The scroll wheel is the standard translucent tilt wheel with scroll wheel detents. On the left side there is a clear rubbery material for your thumb and the Microsoft logo is underneath. The mouse has a black bottom, with a single battery compartment accessible from there. On the bottom are the laser optical sensor, connect button. To my disappointment, there wasn't an on/off switch on the bottom as was included on some other mice. There is a battery indicator light on the top center of the mouse behind the scroll.
In addition, Microsoft has provided the 1st generation receiver for the mouse (I am not sure why they haven't provided the updated 3rd generation receiver. The mouse isn't Bluetooth - so you will have to use an existing receiver or plug in the new one. You only have 6 feet of range with this receiver.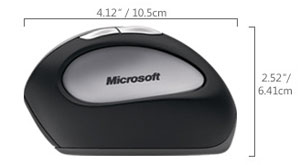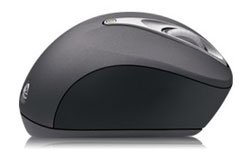 The design is really odd at first. The mouse is designed so you do not have to turn your hand and wrist, and just keep in your natural position. I think this design is one to get used to, like the natural keyboard designs. When I used the mouse it felt like my hand was too high up and felt like I was holding something in my hand rather than naturally using the mouse. I can see, though, how this mouse can help you in the long run because you aren't turning your wrist. But - this mouse will definitely take some getting used to. Clicking the two left side buttons was very awkward and almost impossible using my thumb and finger. I have medium sized hands and my hand rested on the mouse fine, but I could see if you had smaller hands you might feel awkward.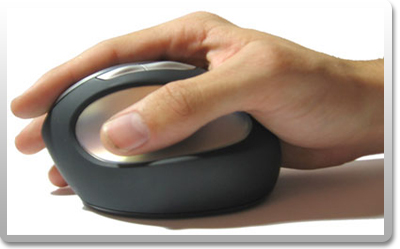 Microsoft Optical Technology
Microsoft has provided a well deserved update to an already great optical technology. This product includes the new Microsoft Laser Technology which aims to improve performance at much higher levels than the previous optical technology, including the High Definition Optical Technology on other Microsoft mice. The technology is 6000 frames per second (FPS) - an improvement over the 2500 FPS of most of the previous optical mice. Other technology improvements that have been made include 1000 dots per inch (DPI) resolution (responsiveness), 85 million operations per second (MOPS), .18 CMOS technology (preciseness) and the Microsoft Intelligent Tracking System (smoother tracking). The Natural Wireless Laser Mouse 6000 has a second-generation 850 nm laser providing optical input. The tracking speed is 15 inches per second. Microsoft optical technologies have been well tested for many years now and work smoothly on most surfaces. It has been broken-in well with previous mice, so you know you won't have any problem.
Final Comments
How It Grades
Installation: 91%
Performance: 88%
Design: 88%
Price/Value: 85%
Overall: 88%
The Microsoft Natural Wireless Laser Mouse 6000 is a good first step for Microsoft in providing a well designed ergonomic mouse to customers. While a bit awkward for myself, I can see how the design of this mouse is geared to reduce the pressure on your hand/wrists and provide for a more healthy use in the long run. If you do decide to switch to this mouse, there might be some time before you fully get used to the design - similar to switching to the "natural" keyboard for the first time. Those who have carpal tunnel and other hand/wrist ailments might find this mouse a godsend. The new IntelliPoint 6.1 has some great new features that are definitely meant to work seamlessly with the mouse. I would definitely recommend you to go to Best Buy, etc. to try the feel of this mouse out before purchasing it - you will either love it or hate it. I definitely think Microsoft is on the right track and I hope they continue to provide innovative hardware products like this one in the future.
Specs & Package
Overall Score
88%
Version Reviewed
Microsoft Natural Wireless Laser Mouse 8000
Release Date
Out Now
The Good Points
Ergonomic Design
Laser Technology
Battery Indicator
The Bad Points
Not a good design for small hands
Not Bluetooth
Not using Firstconnect Technology
No On/Off Switch
Left Buttons Awkward
In The Box

Mouse
1 Wireless Receiver
2 AA Energizer Batteries
1 IntelliPoint 6.0 CD
1 Set of Instructions

Similar Product
Logitech MX Revolution Cordless Laser Mouse
System Requirements

For a Windows-based PC:

Microsoft Windows XP. Windows Vista. Windows 2000, Mac OS X v10.2–10.4 (excluding Mac OS X v10.0–10.1)

128 MB of RAM

233 MHz or Higher Processor

45 MB of available hard disk space (install 100 MB)

CD-ROM drive

USB port on the PC