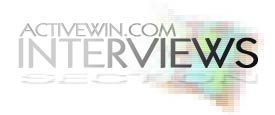 Interview with Brooke Richardson, Product Manager: MSN Premium
ActiveWin.com: Do you expect more programs like Picture It! to be added to MSN in the future?
Brooke Richardson: While we're not discussing future versions of MSN at this time, we can say that MSN is absolutely focused on providing consumers with the best possible online experience by delivering a comprehensive set of services, technologies and features. As with the current version of MSN, we will continue to update our offering based on direct feedback from our customers and their needs, emerging trends and on smart business practices.
ActiveWin.com: Will there be other updates of MSN for the Mac?
Brooke Richardson: MSN for Mac OS X Internet Software is currently available and offers advanced communication tools, powerful and innovative integrated software, enhanced online security tools, and dedicated Mac Support 24 hours a day, 7 days a week. More information can be found at http://www.microsoft.com/mac/products/msnformacosx/msnformacosx.aspx?pid=whatsnew )

As with MSN Premium, we are constantly making improvements to our services on a regular basis and will continue to do so.
ActiveWin.com: Where do you see the future of MSN going from here?
Brooke Richardson: We believe the market is poised for continued broadband adoption and growth and that there is a direct relational need for software services that enable customers to get the most out of their high-speed, always on connection. While we delivered a comprehensive set of powerful software and services in MSN Premium to help customers have a more protected environment while online and take advantage of powerful e-mail and photo sharing capabilities, there will always be exciting new opportunities. MSN will always focus on delivering quality services, convenience and value for our customers. Beyond that we will continue to gather feedback from our customers and watch emerging trends to ensure we're delivering the optimal set of software services for customers to maximize their broadband experience.
ActiveWin.com: How long was MSN Premium in development?
Brooke Richardson: Development on MSN Premium had begun before we completed MSN 8 in October 2002 and we were able to incorporate a lot of feedback and input from our customers between the release of MSN 8 and MSN Premium. The MSN Premium launch included not only the release of premium broadband services software, but also the launch of the new MSN.com, MyMSN.com and MSN Video services.
ActiveWin.com: Looking back, how do you think MSN progressed to its current version from the days of MSN 1.x?
Brooke Richardson: Back in August of 1995 when MSN first launched, the Internet was only beginning to be a consumer accessible information tool and when customers accessed it they were doing so via dial-up connections. MSN at that time was focused on providing customers with a way to get online by offering dial-up service and content to act as starting points to help them find their way on the Internet. The MSN you see today is a progression of our vision to deliver useful services to our consumers and also to acknowledge the shift to broadband and the providers that best deliver that.

Today, the MSN.com homepage has been designed to enhance consumer's broadband experience with a streamlined interface, broadband content and easier navigation, plus easy access to the features consumers use the most. The MyMSN home page provides convenient access to customers personal online content with more than 150 drag and drop content modules offering personalized news, traffic and weather reports, music and entertainment information, from leading partners, including eBay, weather.com, and NBC. Premium Web services, like MSN Premium and MSN Plus, provide consumers with a range of choices for making the most of their broadband connection. For instance MSN Premium delivers communication tools, persistent online protection, and digital lifestyle management in a comprehensive package.
ActiveWin.com: Can you share any hilarious or outlandish moments that occurred during the development of MSN Premium?
Brooke Richardson: While not necessarily hilarious, with the help of our beta testers we did have some moments of enlightenment during the development of MSN Premium which helped drive home the need to always listen to the customer and the value of their input. Two great examples are the "Share Photos" button in MSN Mail and the ability to view multiple POP3 or Hotmail/MSN accounts in their own folders in the MSN Mail client. These were features we had overlooked and by listening to the direct feedback from our beta customers we implemented these features in the final weeks of development and really helped create an easier to use and more powerful MSN experience.
ActiveWin.com: How many subscribers does MSN have currently?
Brooke Richardson: Our overall subscriber number is 8 million worldwide subscriptions. This number includes both access and our premium subscription services numbers, which includes services like MSN Premium, MSN Plus, MSN TV, MSN Extra Storage, and MSN Radio Plus, among others.

Additionally, MSN is available in 38 markets and 18 languages, more than any other international web service. More than 350 million unique users visit the MSN network each month worldwide. MSN Hotmail and MSN Messenger attract 145 million and more than 110 million unique users per month respectively.
ActiveWin.com: Do you feel that you are aiming the service directly to broadband users and no longer toward dial up, or do you still feel that dial up users are as important to you?
Brooke Richardson: Over the last year, we realized that our future lies with our core competency as a company – developing great software and services – and the time was right to make a big bet for consumers. That bet is broadband. Not broadband access, but providing the best software and services to help customers make the most of their high-speed connection by empowering them with great tools that open the doors to new scenarios while making them more efficient. MSN remains in the dial-up Internet access business and we will continue to as long as it is a viable business with customer demand for these services. We continue to innovate here as well -- we recently released MSN 9 Dial-up with MSN Dial-up Accelerator to help our dial-up customers continue to get the most out of the web.
ActiveWin.com: When do you expect the service to be available worldwide?
Brooke Richardson: MSN Premium and Plus are available in the US now. MSN will being MSN Premium to more than a dozen markets this year. MSN 8 is available today in 9 countries worldwide, including the US, Canada, Japan, UK, France, Germany, Spain, Mexico, and Australia and we will bring MSN Premium to those markets this year as well as new ones. MSN does not have specific International launch dates to share at this time.
ActiveWin.com: How much of a success do you expect the pop up guard to become?
Brooke Richardson: We're really proud of the pop-up guard that's part of MSN Premium. Unlike most pop-up guards that just block pop-ups, we developed our technology to actually enable customers to manage their pop-ups. MSN's Pop-up Guard is personalized with customized settings, so customers see a more pleasant, uninterrupted online experience while blocking only unwanted pop-up ads. This ensures that they can view the pop-up ads that interest them, such as special offers or coupons. Customers can choose from multiple pop-up settings – they can turn the guard off, set it to block everything except pop-ups from specified sites, or they can choose to filter your pop-ups. If a customer chooses to filter pop-ups they'll briefly see a tiny thumbnail of a pop-up in the upper right hand corner of their MSN browser. If that pop-up turned out to be something they wanted – including things like a "free shipping" coupon from a company, or a seating chart from a web site that sells concert or theater tickets – the customer can go back and access that pop-up.

Anecdotally, customers are telling us they love the flexibility of our pop-up guard. Estimates for pop-up blocker use in the industry range from ~20% usage in early 2004 up to potentially 60-80% usage in early 2005.
ActiveWin.com: Do you have anything else to add?
Brooke Richardson: The New MSN services have been designed through working closely with over 25,000 customers, with over 150,000 pieces of feedback guiding the development of the new MSN.

Because of this we feel that MSN Premium offers a strong value proposition for consumers by offering the best online experience through better online safety and service options. People want more than their online connection – they also want to seamlessly communicate with others and easily access the information that matters most to them, while in a secure environment. We know that many of these customers (around 35%) already pay for a premium Web service today (mostly AV protection), and we want them to know that there is a comprehensive package of services available that addresses all of their needs at a great price.
Additional Information:
ActiveWin.com MSN Premium Review
Links to MSN Premium Screenshots:
MyMSN Homepage and MSN Premium Dashboard
MSN Mail with Multiple Account Access
---
Interested in doing an interview? Please contact us for more information.


Return To The Front Page