MSN Explorer: Part Deux
In a speedy timeframe eerily reminiscent of the Netscape-Internet Explorer browser wars of the late 1990s, MSN is preparing to issue an upgraded version of MSN Explorer only seven months following the previous release.
In MSN Explorer, Microsoft had finally fulfilled a long standing urge to re-launch MSN with an integrated client, or "experience" as the buzzword goes these days. Microsoft first drafted such plans as far back as 1998, when it was internally referred to as One-Click MSN, or occasionally, the "Immersive MSN Client."
"This product is like AOL's worst nightmare,'' Bob Visse, a MSN Product Manager, said. "We beat them at being easiest to get online, which is something they've had a claim to."
Visse's claim may very well be bearing out in the marketplace. Since the launch last fall through January of this year, MSN has surpassed the 5 million Internet access member mark, and has seen 6 million users download MSN Explorer.
MSN Explorer goes Worldwide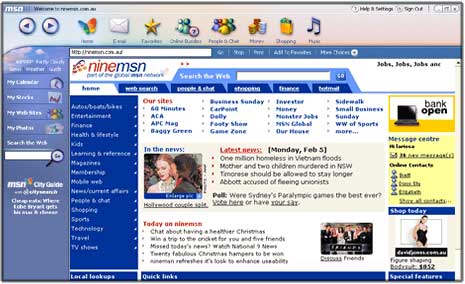 Shortly following the US release, top MSN officials stated that international versions of the software would follow within six months. They are a little behind schedule, but have worked aggressively, as previously reported here at ActiveWin.com in beefing up their international portals to support such an integrated product like MSN Explorer.
Active Network has learned that MSN is planning a global re-launch for MSN Explorer in May which will see an upgraded version of the MSN Explorer client in the United States, and rollouts in several international markets. The goal for this new upgrade and rollout remains the same however said Sarah Lefko, an MSN Product Manager; "MSN® Explorer offers the best of MSN content and services in one place. Our mission is to deliver a convenient, relevant service to consumers around the world that helps people get more from the Web."
NineMSN in Australia, which is a joint venture with local Australian broadcaster Channel Nine and MSN, has publicly stated on their website that an Australian version of MSN Explorer will be rolled out in early May. The screenshot at left shows how the NineMSN Explorer may appear. NineMSN is the #1 web portal in Australia.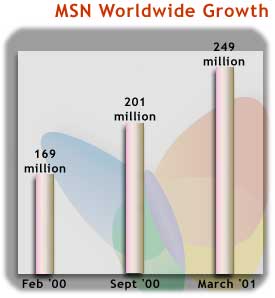 This focus on international markets is a smart move by MSN. In February, 2001, MSN reported a total unique user base of 249 million users. An astonishing 60% of that user base resided outside of the United States.
Feedback Works People!
The new feature set shows that feedback does go somewhere. Users bombarded newsgroups and our comment forums here at ActiveWin.com with suggestions to take care of minor annoyances, and add new features. MSN appears to have listened to that feedback. A slew of usability enhancements will be put in place, along with some heavily requested features.
The next version of MSN Explorer will include for the often requested offline email access, and spell check features. The somewhat annoying "My Stuff" bar that for low-resolution monitors can take up too much of the screen real estate will be retractable with a simple click of the mouse.
The new MSN Explorer will be ready to work with a variety of new MSN sites and services rolling out later this summer:
Windows/MSN Messenger 4.0
Enhancements to MSN Hotmail
Enhancements to MSN Communities
The new MSN Music service as previously reported
A new notification service
A new invite service
A preview of the new MSN Explorer in the United States, Active Network has learned, will be available to a limited set of users on or after April 17th.
We invited Sarah Lefko to respond to our information, but declined to do so saying; "MSN is always looking at ways to improve it's services for consumers, however we do not comment on rumors and therefore have no information to provide at this time".
Keep clicking back to ActiveWin.com for the latest on Microsoft & MSN related news! We'll have more on MSN Explorer as it becomes available.