DirectX
ActiveMac
Downloads
Forums
Interviews
News
MS Games & Hardware
Reviews
Support Center
Windows 2000
Windows Me
Windows Server 2003
Windows Vista
Windows XP



News Centers
Windows/Microsoft
DVD
Apple/Mac
Xbox
News Search



ActiveXBox
Xbox News
Box Shots
Inside The Xbox
Released Titles
Announced Titles
Screenshots/Videos
History Of The Xbox
Links
Forum
FAQ



Windows XP
Introduction
System Requirements
Home Features
Pro Features
Upgrade Checklists
History
FAQ
Links
TopTechTips



FAQ's
Windows Vista
Windows 98/98 SE
Windows 2000
Windows Me
Windows Server 2002
Windows "Whistler" XP
Windows CE
Internet Explorer 6
Internet Explorer 5
Xbox
Xbox 360
DirectX
DVD's



TopTechTips
Registry Tips
Windows 95/98
Windows 2000
Internet Explorer 5
Program Tips
Easter Eggs
Hardware
DVD



ActiveDVD
DVD News
DVD Forum
Glossary
Tips
Articles
Reviews
News Archive
Links
Drivers



Latest Reviews
Xbox/Games
Fallout 3

Applications
Windows Server 2008 R2
Windows 7

Hardware
iPod Touch 32GB



Latest Interviews
Steve Ballmer
Jim Allchin



Site News/Info
About This Site
Affiliates
Contact Us
Default Home Page
Link To Us
Links

News Archive
Site Search
Awards



Credits
©1997-2012, Active Network, Inc. All Rights Reserved.
Please click here for full terms of use and restrictions or read our Light Tower Privacy Statement.



MSN readies online music service
Written By: Paul Britton Jr.
Date: 2nd April 2001
Sources: MSN/ActiveWin/Microsoft
In the latest play toward Microsoft's .NET initiative, Active Network has learned that MSN is close to releasing the first iteration of their online music service, called MSN Music.
The service, which will be located at http://music.msn.com or http://musiccentral.msn.com, will bear the fruits of a $90 million dollar purchase of MongoMusic, Inc. last September. MongoMusic had developed a patented music selection search technology, and had agreements with Riffage.com, Infobeat, Sony, Tower Records and Seagram's Universal Music Group. It is unclear as to the status of those agreements with MSN Music.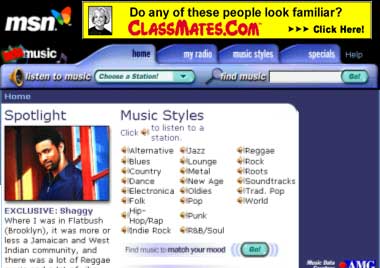 The first phase of MSN Music will release with 120 pre-selected stations, while each station itself will have roughly 100 playlist combinations that will be randomly selected. The service will also allow users to use an exhaustive (so much so, it may wear out the user!) set of moods, and genre style selections to find new music.
In an interesting twist, MSN Music will allow users to rate the music they are listening to, but the ratings at least at this time, will not affect how your music is played. In addition to ratings, users will be able to add a particular artist, song, or album to their favorites. MSN Music will allow users to save up to 1,000 ratings, and/or favorites with their profile. None other than Microsoft Passport provides the authentication for the music profile data service.
This is a Windows only play, thank you.
With MSN Music, at least the first release of the service is a Windows-only service. MSN Music does not support the Mac versions of Windows Media Player and Internet Explorer. To add insult to injury, MSN Music uses an embedded Windows Media Player (although it would be possible to strip the stream URL out of the code), and Netscape Navigator does not have an embeddable Windows Media Player plug-in.
However, when one thinks about it, MSN by and large has gone out of their way in the past to make sure popular non-Windows technology can play on MSN too.
MSN has "First Movers" advantage
In an interesting turn of the table…out of the top 5 US web portals, MSN, perhaps the first time in it's history, is out of the blocks first with a new type of service. This fact goes to show just how far along MSN has come in the last 18 to 24 months. Some of you reading this article may ask, "What about Excite Music?" Even though MTV Networks power the Excite Music channel, Excite's has a dwindling user base at roughly a quarter of the total size of the top three portals. With industry rumors of an AOL Music cable venture, it would not be surprising to see MTV Networks make an agreement with Yahoo! or MSN.
Sources close to MSN Music have informed us that the service will not be replacing WindowsMedia.com, which recently eclipsed realguide.real.com as the largest multimedia website. It will however replace WindowsMedia.com as the default radio and music links on msn.com, in MSN Search, and in the next version of MSN Explorer due out in early May as earlier reported on ActiveWin.com.